Students From Tuskegee Alabama Visit KSU

A group of 30 high school students and mentors from Tuskegee, Alabama visited Kentucky State University and toured the Aquaculture Research Center. Students toured the ponds, hatchery, and other facilities at the ARC. They were hosted by Dr. Bob Durborow. Three of the mentors were originally from Ghana.

Photos by Charles Weibel
_________________________________________________________________________________________
Rick Hulefeld Starts Tilapia Brewers Grains Study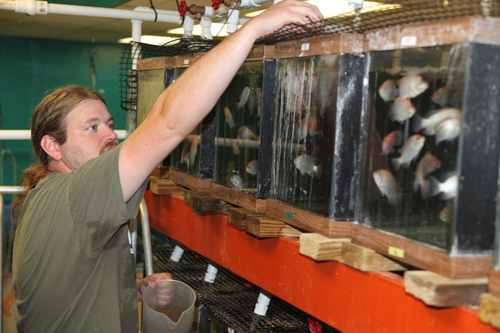 Rick Hulefeld is in the Agriculture Food and Environmental Program and is conducting a feed trial with juvenile tilapia using different percentages of wet brewers grains from West 6 Brewery located in Lexington, Kentucky.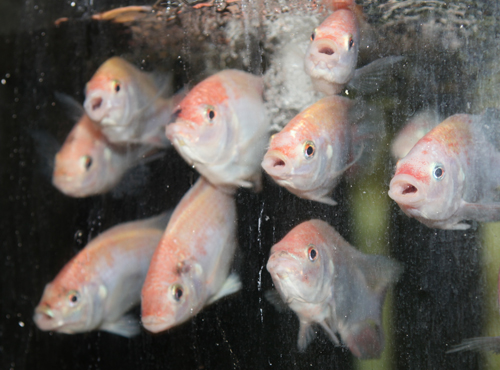 The purpose of this experiment is to observe how much of the wet brewers grains, a byproduct of breweries, in combination with other practical ingredients can be used in a diet while still encouraging good health and growth. This study consists of five handmade diets with varying percentages of the brewers grains.
Photo by Charles Weibel
________________________________________

Two Aquaculture Graduate Students Defended Their Research
Two Aquaculture Graduate Students, Jiashuo Ma and Zachary Kupchinsky, defended their theses during the fourth week of July at the Aquaculture Research Center.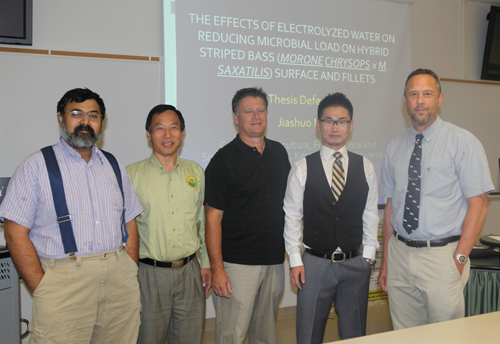 Mr. Jiashuo Ma presented "The Effects of Electrolyzed Water on Reducing Microbial Load on Hybrid Striped Bass" and was successful in his defense.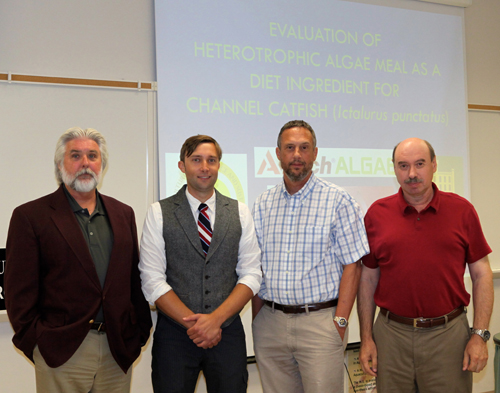 Mr. Zachary Kupchinsky also successfully defended his thesis, "Evaluation of Heterotrophic Algae Meal as a Diet Ingredient for Channel Catfish."
Photo by Charles Weibel
Researchers Sample Largemouth Bass Study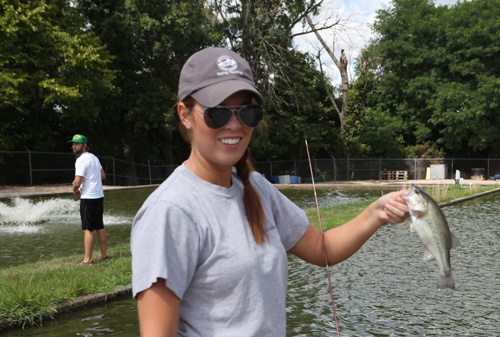 Aquaculture Researchers sampled a second year growth study which is evaluating the long term health effects of adult fish fed diets with different nutrient profiles. Diets being evaluated include: Classic Trout (40/12) (protein% / lipid%), KSU Bass Demo (44/12) which was designed by Dr. Tidwell, Steelhead (45/16) which is the control, and Classic Bass (48/18).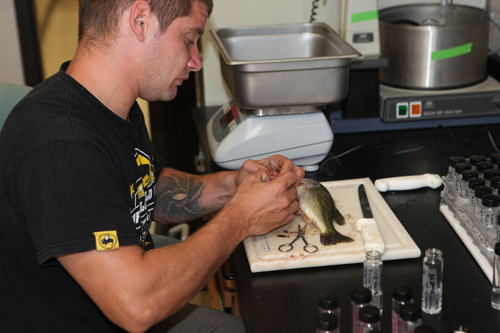 For two full days, researchers and students worked through 12 ponds. Graduate students were Zak Kupchinsky, and Luke Oliver, undergraduate students were Chelsea Watts, Doug Blair, and Rick Hulefeld.
Photos by Charles Weibel