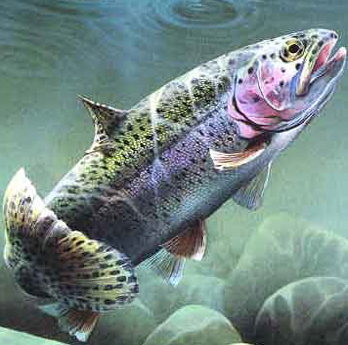 Scott Sherman, Vice President of Advancement and Operations at Southeast Kentucky Community and Technical College, invited KSU investigators to visit a site in Lynch, KY with mine water where trout were grown in a project about a decade ago. It was a good time to visit because of the drought and correspondingly low water. It is hoped that the system can be modified and started up again to provide trout for recreation in the area as a collaboration between the City of Lynch, Southeast Kentucky Community & Technical College, UK Extension, and KSU aquaculture.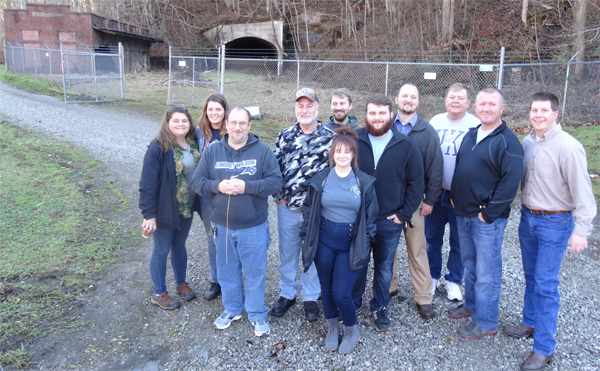 ______________________________________________
Ben Bowman Will Defend His Thesis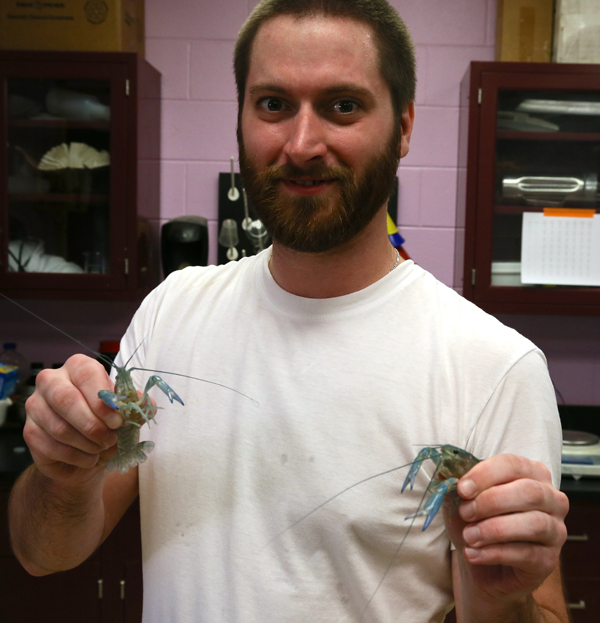 "Small-Scale Hatchery Production And Alternative Protein Sources For Juvenile Australian Red Claw Crayfish (Cherax quadricarinatus)"
Friday, December 9, 2016 at 10:00 am
Aquaculture Research Center
Kentucky State University
______________________________________________
Dr. Ray Presents at the 2016 Iowa Aquaculture Conference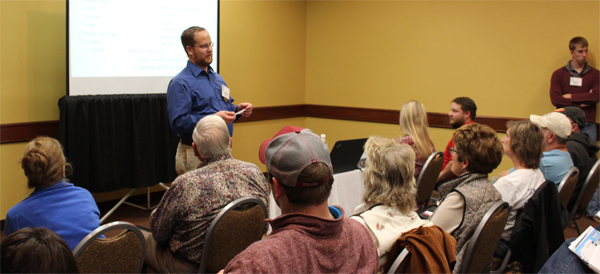 Dr. Andrew Ray gave a presentation at the 2016 Iowa Aquaculture Conference on November 17, 2016 in Ames, Iowa. His presentation was the key component of a break-out session on Shrimp Aquaculture. Dr. Ray gave an overview of indoor shrimp aquaculture systems, especially focusing on the research he is conducting at Kentucky State University.
______________________________________________
George J. Pate Harvested His Aquaponics Project
This study evaluated plant growth factors between aquaponics systems stocked with Nile Tilapia and Largemouth Bass (LMB). Six replicate systems were used that included a 415-L fish tank, a 190-L settling tank, a 115-L clarifier, and two 1.5 meter squared floating raft beds with a 72 plant capacity. Bibb lettuce and Red Russian kale were evaluated in successive planting cycles. Fish were stocked at approximately 1,400g per system and fed five percent body weight per day. Tilapia and LMB were fed a floating feed containing 32% and 45% protein, respectively. At harvest, total plant biomass in each system was recorded. Sixteen representative samples from each system were also collected and analyzed for plant and root weight, number of leaves, leaf surface area, root/shoot ratio, and chlorophyll content. Representative samples from each system were also dried and analyzed for micro and macro nutrient content.
Upon conclusion of this study, researchers will determine if differences exist in plant growth factors between tanks stocked with tilapia and LMB. This information will determine if producers are able to maximize their production and potential profits in aquaponics using LMB.
Photos by Charles Weibel
______________________________________________
Dr. Semmens and Graduate Students Inventory Ponds
Paddlefish in ponds 7 and 8 were inventoried by graduate students and staff on November 21, 2016. The fish had been stocked a year earlier to be grown out on an artificial diet for use in holding experiments. In the second year of life, the fish increased average weights from 0.8 lbs. to about 3 lbs. each. Over 1000 lbs. were harvested from each 0.1 acre pond.
Photos by Charles Weibel
______________________________________________
Americans Are Eating More Fish, But Still Not Enough
This week is all about turkey. But year round, Americans are making room on their plates for more fish and other seafood.
We ate an average of 15.5 pounds of it in 2015, continuing a three-year rise, says a recent report from the National Oceanic and Atmospheric Administration (NOAA).
But here's the catch: That's roughly one 4-ounce serving each week, or half the 8 ounces recommended for most adults in U.S. dietary guidelines. The American Heart Association also urges adults to eat two fish meals a week.
Click the link below to read the full article:
http://www.usatoday.com/story/life/2016/11/20/fish-consumption-diet-nutrition/93792688/
______________________________________________
New FDA Aquacultured Seafood Information Page
FDA Center for Food Safety and Applied Nutrition (CFSAN)

FDA's Center for Food Safety and Applied Nutrition (CFSAN) has developed a webpage focusing on this topic which was designed to "... provide content about aquacultured seafood, including consumer information, guidance for industry, and education and outreach. The webpage covers topics specifically related to the safety of aquacultured seafood, and sections of the webpage are Facts about Aquacultured Seafood, Foreign Country Assessments, Good Aquaculture Practices, Frequently Asked Questions, and Additional Resources ..."

Web site: Source: November 10, 2016 FDA Fish and Fishery Products Hazards and Controls Guidance e-mail update, titled "Aquacultured Seafood Webpage Now Available"

The FDA Aquacultured Seafood topic page:
http://www.fda.gov/Food/PopularTopics/ucm518782.htm

The FDA topic page on Seafood:
http://www.fda.gov/Food/PopularTopics/ucm341987.htm

Questions about aquaculture may be directed to the Office of Food Safety of the Division of Seafood Safety, a unit of the FDA Center for Food Safety and Applied Nutrition in College Park, Maryland at 240 402 2300; e-mail: SeafoodHACCP@FDA.gov
_____________________________________________________
Certificate Degree in Aquaculture/Aquatic Sciences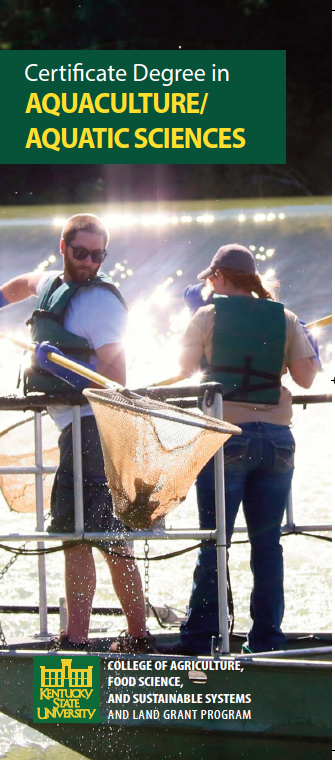 Certificate Degree in Aquaculture/Aquatic Sciences
In the United States over 90% of the seafood consumed is imported. Aquaculture is now the world's leading provider of seafood and the fastest growing segment of world agriculture. The Division of Aquaculture is KSU's Program of Distinction and is highly regarded in both research and academics. KSU offers more online aquaculture courses than any university in the U.S. A Certificate Degree in Aquaculture/Aquatic Sciences can be earned by completing 12 hrs of Aquaculture (AQU) courses, with a grade of "C" or better, within five years of beginning the initial course work. Courses can be online, classroom, or any combination. To enroll, students must first be admitted to the University on either a degree seeking or non-degree seeking basis. Work completed for the Certificate Degree may later be applied toward the Bachelor of Agriculture, Food, and Environment (AFE) degree.

Aquaculture/Aquatic Sciences Certificate Program

The Certificate Degree in Aquaculture/Aquatic Sciences will require a minimum of 12 credit hours of course work chosen by the student from the Division of Aquaculture offerings (AQU prefix). These can either be classroom or online classes. Only classes in which students receive a "C" or better will count toward the Certificate Degree. These classes can also count toward the Aquaculture Systems option for the B.S. in Aquaculture, Food, and Environment (AFE) and/or the Aquaculture Minor should the student pursue a high degree.

Available Online Courses
To earn the Aquaculture/Aquatic Sciences Certificate entirely online, you must complete four (Students choice) of the following online courses:

AQU 407: Fish Genetics

AQU 411: Fish Diseases

AQU 422: Principles of Aquaculture

AQU 427: Fish Reproduction & Spawning Techniques

AQU 451: Survey of Production Methods

AQU 460: Water Quality Management
Click Here For The Full Brochure
____________________________________________________
Dr. Boris Gomelsky Has Published Amazon Kindle eBook "Fish Genetics"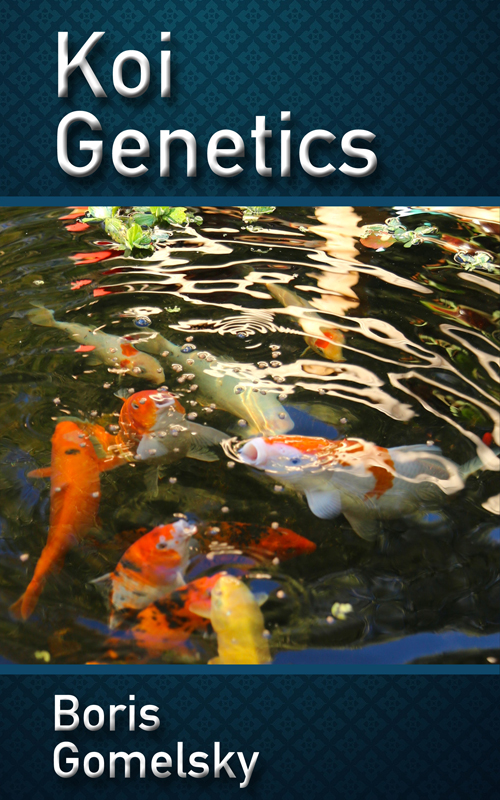 Dr. Boris Gomelsky has recently published an Amazon Kindle eBook "Fish Genetics". This eBook is intended for koi hobbyists and culturists. Below is the corresponding link to the book:
http://www.amazon.com/dp/B01M30PGQD
If you click on the book cover on the Amazon website, you can see a preview of the book.
______________________________________________
James Schwartz Starts His Thesis Research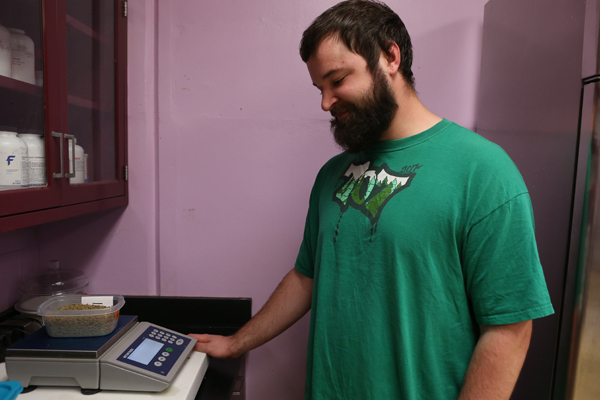 Mr. James Schwartz, a graduate student is starting his thesis research entitled "Evaluation of Fishmeal Free Diets by Using Soy-based EnzoMeal and other commercial soybean meals for hybrid catfish (Ictalurus punctatus x Ictalurus furcatus)".
The Ohio Soybean Council and its research partners Kentucky State University and Battelle, "the world's largest nonprofit research and development organization," have developed a new technology to completely remove non-digestible carbohydrates (oligosaccharides) and enhance the protein content from regular soybean meal without compromising the amino acid composition is called Soy-based EnzoMeal. The overall goal of this research is to assess the nutritional value of commercially available soybean meals (SBMs) and optimize SBM-based diets for hybrid catfish. Mr. Schwartz is working under the supervision of Dr. Vikas Kumar. The project is in line with the Kentucky Soybean Promotion Board research priorities.

Photos by Charles Weibel
______________________________________________
10 - Year NOAA Sea Grant Aquaculture Vision

"10-Year NOAA Sea Grant Aquaculture Vision". The purpose of this 10-year vision is to: (1) determine Sea Grant's most appropriate roles over the next 10 years; and (2) identify priority research and outreach strategies leading to sustainable economic development, environmental conservation and social well-being.
Please Click the Link Below for the Full Publication:
10 - Year NOAA Sea Grant Aquaculture Vision
______________________________________________
Foodchain Aquaponics
This video discusses aquaponics at Foodchain, a local business located in Lexington, KY.
______________________________________________
Dr. Andrew Ray's Research Published in the Global Aquaculture Advocate
"Comparing Chemoautotrophic- and Heterotrophic- Based Systems Receiving Different Carbohydrate Sources"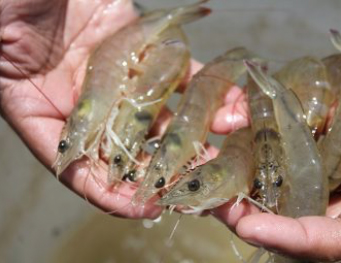 Click on the link below to read the full article:
http://advocate.gaalliance.org/testing-shrimp-growth-in-different-bioflocsystems/#sthash.i3E7KYGr.dpuf
______________________________________________
Constructing Fish Tanks in High Tunnel Greenhouses
This video was shot at the Kentucky State University High Tunnel Complex. High tunnels are relatively simple greenhouse structures commonly used to extend the growing season of crops. In this video Dr. Andrew Ray describes some large fish tanks that have been constructed with wooden frames and rubber liners. The fish tanks are being used to grow tilapia, with the goal of getting market-sized fish in one growing season in Kentucky. Time-lapse and underwater video footage help to illustrate Dr. Ray's points.
______________________________________________

Dr. Sid Dasgupta, Richard Bryant, and Alejandro Velasquez recently published an article in World Aquaculture Magazine titled, "Local Food Markets For Catfish In Kentucky."
Click here for the complete article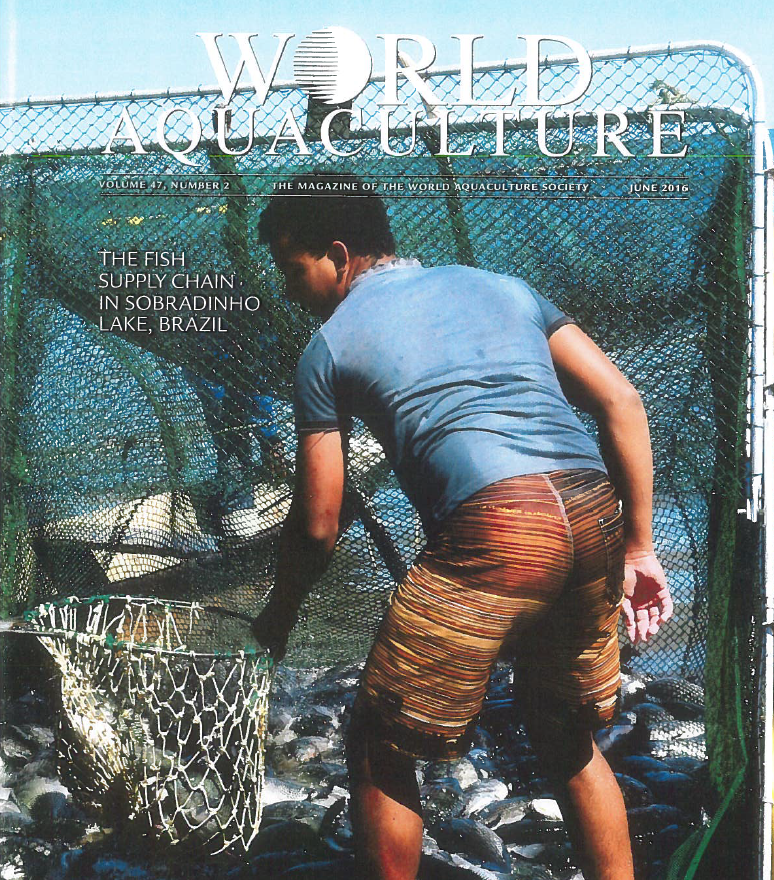 ______________________________________________
Team Gomelsky Publishes Two Aquaculture Articles
Dr. Gomelsky and his team recently published two articles in new issues of North American Journal of Aquaculture. The first article describes ploidy variability and viability of fish obtained from triploid koi females. It is typically considered that triploid fish are sterile. However, triploid
koi females, which were obtained at the Aquaculture Research Center at Kentucky State University, developed large ovaries and appeared to be fertile. The data presented in the article shows that fish obtained by crossing triploid koi females with normal diploid koi males are aneuploids and
have intermediate ploidy between diploid (2n) to triploid (3n) level. This indicates that triploid females produce aneuploid eggs with unbalanced chromosome numbers.
The second article describes inheritance of red eyes in koi. Red eyes is a trait typical for albino fish or other animals. However, data presented in this article shows that trait "red eyes" in koi is under control by not albino but by another demelanization mutation. In experimental progenies red-eyed fish with black (melanin) pigmentation on body were identified. Also, crossing of red-eyed koi with wild-type colored common carp resulted in appearance of fish with black eyes and light body color. These studies were supported by USDA Evans Allen and State's Program of Distinction funds.
______________________________________________
Dr. Boris Gomelsky Publishes Video On Koi Breeding
Dr. Boris Gomelsky and KSU Aquaculture graduate students spawned koi in the hatchery this Spring. Video was recorded, edited and posted onto YouTube. This video demonstrates the process of koi artificial breeding and includes stripping of eggs and sperm from koi broodstock, and artificial fertilization of eggs. In order to remove adhesiveness, after fertilization eggs are placed in McDonald incubation jars where they are vigorously moved in water/milk suspension by air bubbles for 50-60 minutes. Then air flow is substituted with water flow for further incubation of eggs.
Video edited by Charles Weibel
_____________________________________________
Scale-Transparency and Red-Eye Mutations in Koi
Dr. Boris Gomelsky, KSU Aquaculture Professor, describes two mutations in koi and demonstrates mutant fish from experimental progenies.
Video edited by Charles Weibel
_____________________________________________
Growing Marine Shrimp in a Biofloc System
This video was shot during a harvest of the indoor marine shrimp production system at Kentucky State University's Aquaculture Research Center. Dr. Andrew Ray describes some of the benefits and concepts behind biofloc-based aquaculture. The video serves as an introduction to this relatively new and exciting topic which can be used to grow marine shrimp in practically any building, allowing fresh, whole, jumbo shrimp to be grown near and sold to a variety of inland markets.
_____________________________________________
Dr. Jim Tidwell on GCTV with Bill Miller
Dr. Jim Tidwell, Chair of Kentucky State University's Division of Aquaculture and past-president of both the US Aquaculture Society and the World Aquaculture Society, discusses how to deal with dwindling fish supplies and overfishing.
_____________________________________________
Aquaponics - An Integrated Fish and Plant Production System
__________________________________________________________________________________________________________________
Alltech-KSU Research Alliance Focus on Aquaculture Sustainability
To learn more about aquaculture & agriculture sustainability and the research alliance between Alltech and Kentucky State University, click on the link below.
http://stories.alltech.com/sustainable-agriculture.html
__________________________________________________________________________________________________________________