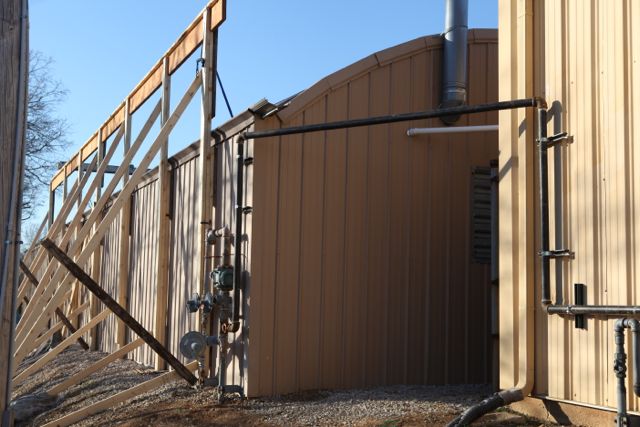 A new roof is currently being installed on the Hatchery Greenhouse at the Aquaculture Research Center. The roof will be made of 8mm double walled polycarbonate material. This material is rigid and will hold up to extreme weather conditions and the destructive black vultures that have caused much damage at the facility. The polycarbonate material was chosen due to the fact that it is presently being used on the Shrimp Greenhouse located at the ARC.
Adam Cecil and Paul Auberry have been working to get a nursery tank set up to recieve a shipment of White Leg Shrimp (Litopenaeus vannamei) near the end of this month. The shrimp will be grown in the nursery for about 30 days, at which point some of them will be used for an Alltech-funded diet study. The remainder of the shrimp will be used for a demonstration project lead by Dr. Ray in which a commercial-scale tank will be used to produce food-size shrimp.
Changes are also being made in the Nutrition Building. New and improved freshwater and saltwater recirculating aquaculture systems, (RAS) are currently being constructed. These two systems will be utilized for freshwater fish and saltwater crustacean feeding trials. The saltwater system will have 36 glass aquaria (110-liter) and the freshwater system will consist of 24 (110-liter) glass aquaria. Each system will be connected to bio-filters and ultra-violet lights to ensure good water quality. Dr. Kumar's graduate student, Ms. Kristy Allen, will be using the saltwater system for her Master's thesis project during the spring semester. Her research will be in collaboration with Alltech evaluating their algae products when fed to pacific white shrimp (Litopenaeus vannamei).
Also under construction in the Nutrition Building's wet lab is an individual freshwater quarantine unit. It will consist of twelve 0.5 square meter fiberglass tanks with biofiltration. In the future, the small brine shrimp room in the Nutrition Building wet lab will be converted to hold systems for nursery and juvenile stages for fish and crustacean studies.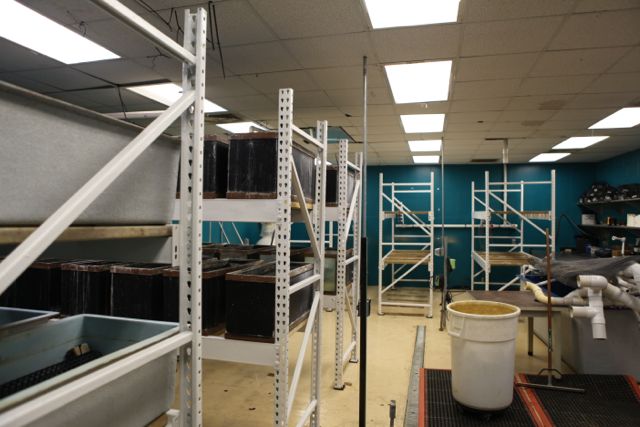 Photos by Charles Weibel
______________________________________________________________________________________________________________________