The US Aquaculture Society has partnered with the National Aquaculture Association and the North Central Regional Aquaculture Center to produce a group of aquaculture related webinars. The latest webinar focuses on recreational pond management techniques and can be found at the link below:
http://www.ncrac.org/video/recreational-fish-pond-management
Other webinars have included
Aquaponics
Bio-security 1 and 2
Fish inspection and labeling
You can find links to these and other webinars at:
http://usaquaculture.org/webinars
http://www.ncrac.org/video?field_video_category_tid% 5B%5D=638&sort_by=title&sort_order=ASC
______________________________________________
Richard Hulefeld Starts His Thesis Research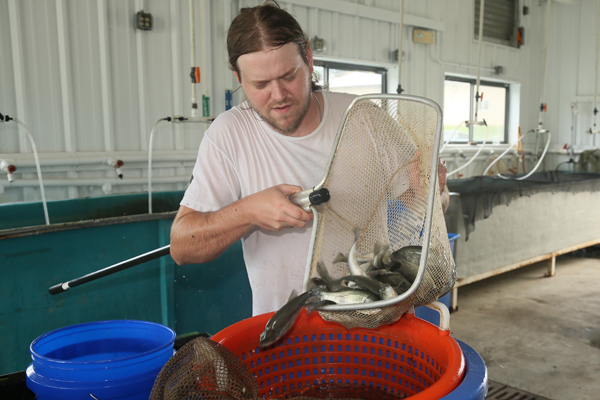 Richard Hulefeld started his thesis research entitled "Assessing the Nutritional Value of an Improved Soybean Meal (EnzoMeal) in the Diet of Pacific White Shrimp (Litopenaeus vannamei) and Largemouth Bass (Micropterus salmoides)" under the supervision of Dr. Vikas Kumar. This project is funded from the "Ohio Soybean Council". The overall aim of his project is twofold:
1. Increase the usage of EnzoMeal in feeds for the commercial production of largemouth bass and Pacific white shrimp.
2. Demonstrate how EnzoMeal based feed can improve profits for fish farmers.
In a major boost to aquatic fish farmers, it delivers a powerful alternative to fish meal. EnzoMeal is the first advanced protein soybean meal with zero oligosaccharides with higher protein content (58%) that delivers improved nutritional value for fish feed.
Photo by Charles Weibel
______________________________________________
Tom Tierney Starts His Thesis Research Project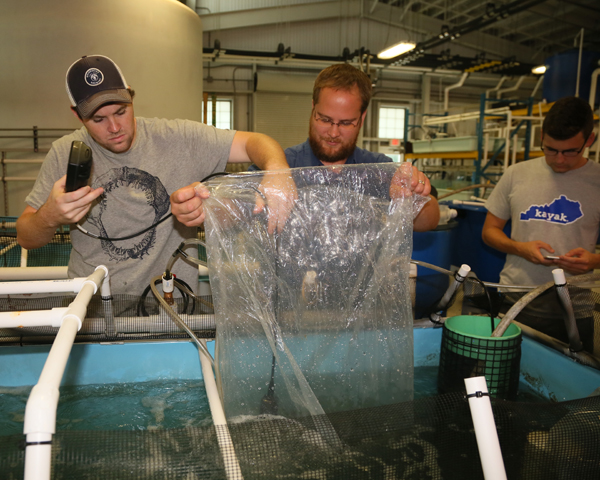 Tom Tierney's experimental system is located in Kentucky State University's Production and Technologies building at the Aquaculture Research Center. About 23,000 post-larval Pacific White Shrimp (Litopenaeus vannamei) were shipped from a hatchery in Florida. The shrimp were acclimated to proper temperature, salinity and pH before they were stocked to reduce stress on the animals.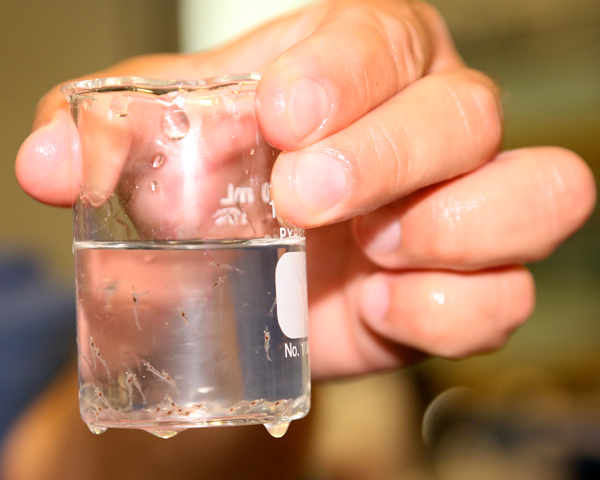 Tom stocked 480 post-larval shrimp into each of his 12 tanks. In one treatment a settling chamber, foam fractionator, and a biofilter clarify the water and perform nitrification. The second treatment has only a settling chamber and a biofilter, while the last treatment has only a settling chamber. Information from this project will help farmers gauge the balance between the control that comes with extra filtration and the cost of that filtration. This project will examine the effects of three different levels of filtration on shrimp production in intensive nursery systems.
Photos by Charles Weibel
______________________________________________
A Recreational Pond Management Workshop
Kentucky State University will offer a recreational pond management workshop on Friday, August 12, 2016 at KSU's Harold Benson Research Farm and Extension Center. Topics include pond construction, fish management, aeration and aquatic plant identification and control. Members of the public are welcome!
Agenda Includes:
9:00 AM (EST) Overview of Pond Construction - Forrest Wynne, KSU State Aquaculture Extension Specialist for Aquaculture
9:45 AM Pond Aeration and Fish Management - Adam Charlton, Aquatic Control (Elizabethtown, KY)
10:30 AM Which Fish to Stock and Algae Control - Forrest Wynne, KSU State Aquaculture Extension Specialist for Aquaculture
11:15 AM Vascular Plant Control - Robert Durborow, KSU Professor and Aquaculture Extension Specialist
12:00 PM Lunch
1:00 PM Aquatic Plant Identification - Forrest Wynne, KSU State Aquaculture Extension Specialist for Aquaculture
1:30 PM Aquatic Product Overview/Update - Adam Charlton, Aquatic Control Inc.
2:00 PM KSU Pond Side Discussion

Harold R. Benson Research Farm and Extension Center
1525 Mills Lane, Frankfort, KY 40601
Friday, August 12, 2016
9:am - 3:00pm EST
Please RSVP Forrest Wynne
270-247-2334
______________________________________________
Brittany Woodward Starts Her Thesis Research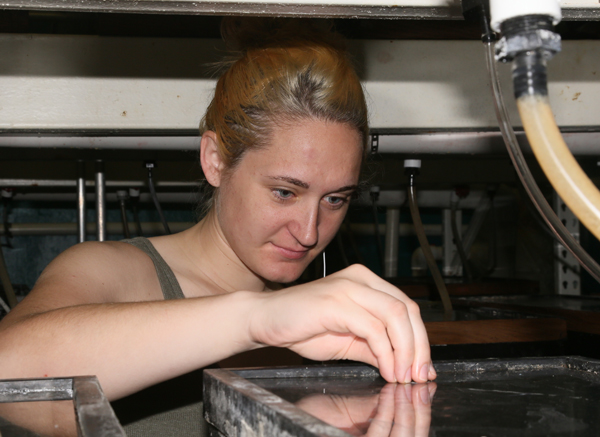 Brittany Woodward is a graduate student at the Kentucky State University Aquaculture Research Center. She is starting her thesis research entitled "Essential Amino Acid Requirement of Largemought Bass, Micropterus salmoides."
Her research is part of an Evans Allen, USDA funded project "A Critical Appraisal for Essential Amino Acids and Fatty Acid Requirement of Largemouth Bass: Insight into Molecular and Physiological Approaches."
The overall goal of her thesis is to determine the essential amino acid (Lysine and Argenine) requirements of largemouth bass for sustainable aquaculture feed and food production.
Photos by Charles Weibel
______________________________________________
Chelsea Walling Starts Her Thesis Research
Chelsea's thesis will evaluate Black Soldier Fly Larvae (BSFL), Hermetia illucens as a fish meal replacement in practical diets for largemouth bass, Micropterus salmoides. She prepared her diets and stocked her research system last week where the fish will spend one week on an acclimation period. Diets were made on-site in the Fish Nutrition Research Laboratory.
The 12-week study will examine five diets with differing ratios of BSFL and fish meal (FM). Fingerlings were stocked in 20, 114-L aquaria in a recirculating aquaculture system at stocking densities of 25 fish/tank with 4 replicates per diet.
BSFL contains 42% protein and 35% fat. Commercial producers of BSF feed the larvae manure, food scraps and other "waste" items who convert the digested matter in their gut. The larvae are then processed in a high quality protein feedstuff which may be a suitable replacement for fish meal. With the high demand for fish products in aquaculture diets, globally there is a steady decline in the availability of fish meal. Thus increasing prices are passed on to growers through feed costs. Alternative protein sources are necessary to sustain growing aquaculture needs and the black soldier fly has been examined as a potential diet ingredient for a variety of species including (tilapia and trout) as well as poultry and swine.
Photos by Charles Weibel
______________________________________________
Liz Gamez Prepares to Start Her Thesis Project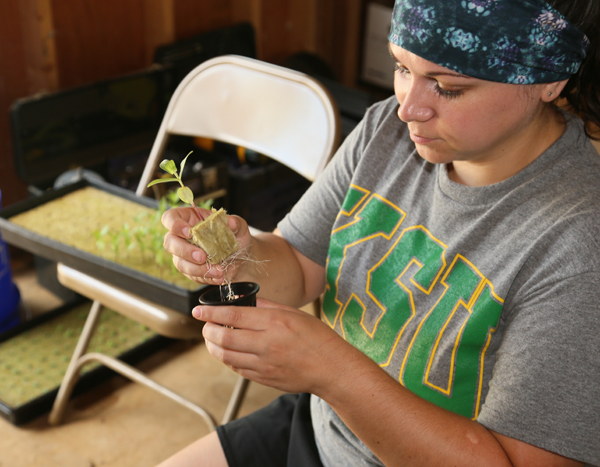 The Ray Lab is beginning research in brackish water remediation this summer at the Kenucky State University's High Tunnels Complex. KSU Aquaculture graduate student Liz Gamez is currently screening leafy food crops and ornamental plants for salinity tolerance in aquaponics in anticipation of a large-scale remediation trial which will comprise her thesis research. Serially reused water in indoor biofloc systems tends to accumulate nitrate and heavy metals over time and is known to reach concentrations that will hinder shrimp health and growth. Liz's research will test a relatively low-tech, static phytoremediation system for removing nuisance compounds and improving the quality of reused biofloc water between harvest cycles. By reusing water more frequently, farmers can save on the cost of salt for inland marine shrimp production.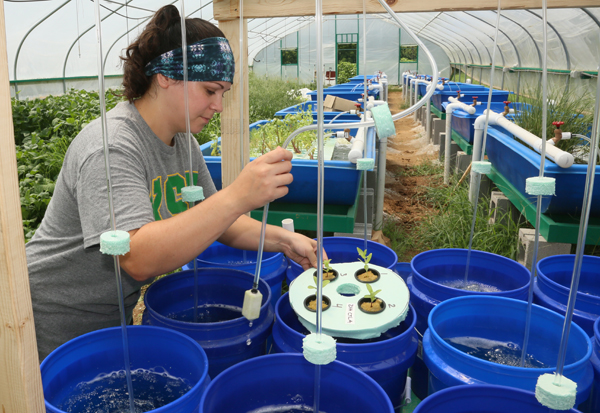 Photos by Charles Weibel
______________________________________________
Dr. Andrew Ray's Research Published in the Global Aquaculture Advocate
"Comparing Chemoautotrophic- and Heterotrophic- Based Systems Receiving Different Carbohydrate Sources"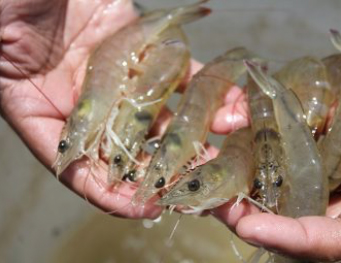 Click on the link below to read the full article:
http://advocate.gaalliance.org/testing-shrimp-growth-in-different-bioflocsystems/#sthash.i3E7KYGr.dpuf
______________________________________________
Constructing Fish Tanks in High Tunnel Greenhouses
This video was shot at the Kentucky State University High Tunnel Complex. High tunnels are relatively simple greenhouse structures commonly used to extend the growing season of crops. In this video Dr. Andrew Ray describes some large fish tanks that have been constructed with wooden frames and rubber liners. The fish tanks are being used to grow tilapia, with the goal of getting market-sized fish in one growing season in Kentucky. Time-lapse and underwater video footage help to illustrate Dr. Ray's points.
______________________________________________
Welcome New Visiting Professor at Aquaculture Research Center, Kentucky State University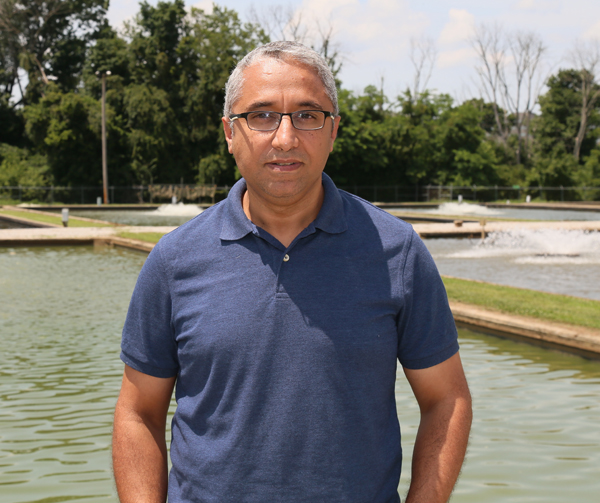 Dr. Ehab El-Haroun is a new visiting professor at Kentucky State University's Aquaculture Research Center. Prior to his visit to KSU, Dr. El-Haroun was working as a Post-Doctoral Researcher at the Center for Nutrition Modeling, University of Guelph, Canada.
Dr. El-Haroun has completed a Doctoral degree in fish nutrition modeling from the University of Guelph in 2011 and Masters of Science from Cairo University in Fish Nutrition & Physiology.
He is now working at KSU in the Aquaculture Nutrition Laboratory under the supervision of Dr. Vikas Kumar. His research revolves around nutrition, physiology and genomics of fish and shellfish.
Dr. El-Haroun's research goal is to develop a nutritionally balanced, environmentally sound and cost effective diet for commercial fish and shellfish culture.
Photo by Charles Weibel
______________________________________________
Fred Gonzales Starts His Thesis Research Project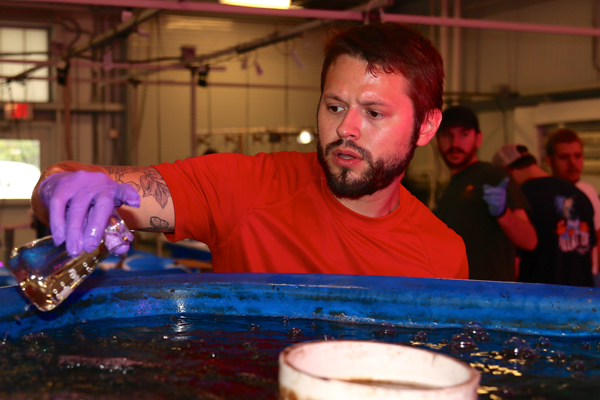 Kentucky State University Aquaculture graduate student Fred Gonzales led a team of students and researchers in stocking six replicate aquaponic systems for a food safety study. The research is Fred's thesis research project and will run for around six weeks.
Tilapia are weighed and distributed between each aquaponic system. Lettuce seedlings were transplanted from a grow media and planted in the aquaponic system using grow grips.
The fish, plants, and water were sampled and processed in the microbiology lab later that afternoon. The focus of this study is to look at the effects of a probiotic cocktail on food safety indicators within aquaponic systems.
Photos by Charles Weibel
______________________________________________
Water Quality Workshop For Farmers

Ohio State University Extension will be hosting a water quality workshop for fish farmers on Saturday, August 6, 2016. Topics to be covered include:
• Understanding and interpreting WQ
parameters necessary for fish production

• Understanding your water quality analysis report
from the South Centers

• How does poor WQ affect your wallet?

• Hands-on testing of key WQ parameters

• Fish WQ management in RAS/aquaponics

• Plant and pest management in aquaponics

• Hands-on aquatic weed identification and
treatment options
Click here for complete Flyer/Agenda
______________________________________________
Fish Farming Workshop

On June 28, 2016 Mr. Richard Bryant and Dr. Sid Dasgupta collaborated with the UK Cooperative Extension Service and various community-based agricultural organizations in Kentucky to provide a Fish Farming Workshop. This workshop was funded by the USDA NIFA Beginning Farmers and Ranchers Development Program (BFRDP). The goal of the BFRDP program at KSU is to teach and assist returning veterans, African-Americans, and limited-resource beginning farmers to start food production and marketing. It was designed to inform beginning farmers about the possibilities of small-scale marketing. There were a total of 22 attendees in the audience and topics covered beginning aquaculture, aquaculture in decomissioned water treatment plants, catfish aquaculture at a small scale, water quality measurements, and tilapia aquaculture in ponds and tanks.
______________________________________________

Dr. Sid Dasgupta, Richard Bryant, and Alejandro Velasquez recently published an article in World Aquaculture Magazine titled, "Local Food Markets For Catfish In Kentucky."
Click here for the complete article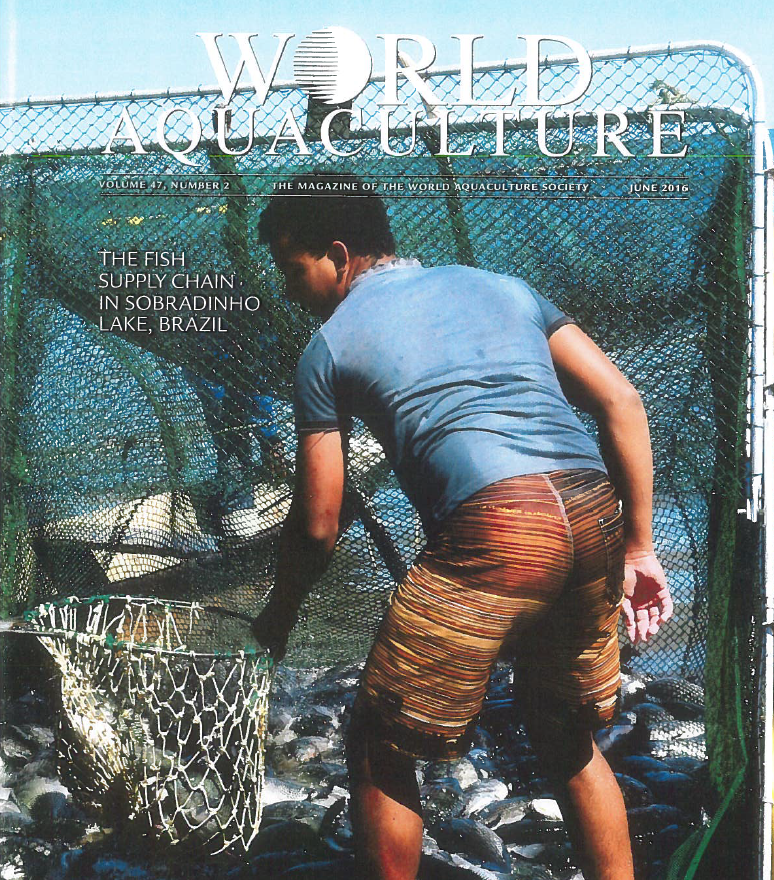 ______________________________________________
Kentucky State University Students Traveled To The University of New England To Attend Recirculating Aquaculture System Design Short Course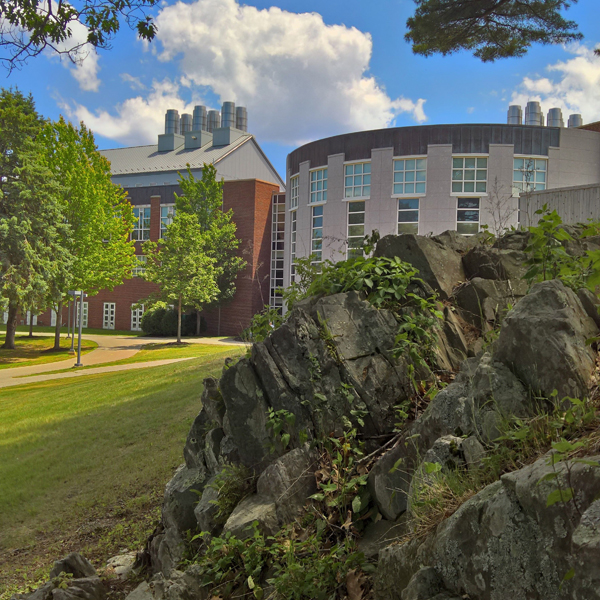 KSU Aquaculture staff, Janelle Hager and students, Fred Gonzales, Joe Pate, and Doug Blair traveled to the University of New England in Biddeford, ME to take part in a three day short course for recirculating aquaculture system design. Dr. Ebling and Dr. Timmons hosted the short course and conveyed principles guiding indoor fish production. KSU students were equally excited to hear how these principles can be used in aquaponics system design.
______________________________________________
Team Gomelsky Publishes Two Aquaculture Articles
Dr. Gomelsky and his team recently published two articles in new issues of North American Journal of Aquaculture. The first article describes ploidy variability and viability of fish obtained from triploid koi females. It is typically considered that triploid fish are sterile. However, triploid
koi females, which were obtained at the Aquaculture Research Center at Kentucky State University, developed large ovaries and appeared to be fertile. The data presented in the article shows that fish obtained by crossing triploid koi females with normal diploid koi males are aneuploids and
have intermediate ploidy between diploid (2n) to triploid (3n) level. This indicates that triploid females produce aneuploid eggs with unbalanced chromosome numbers.
The second article describes inheritance of red eyes in koi. Red eyes is a trait typical for albino fish or other animals. However, data presented in this article shows that trait "red eyes" in koi is under control by not albino but by another demelanization mutation. In experimental progenies red-eyed fish with black (melanin) pigmentation on body were identified. Also, crossing of red-eyed koi with wild-type colored common carp resulted in appearance of fish with black eyes and light body color. These studies were supported by USDA Evans Allen and State's Program of Distinction funds.
______________________________________________
Fluorescein Dye to Reveal the Effects of Routine Collection of Weight and Length Data from Largemouth Bass

Ayra Burney-Moorehead, Dr. Ken Semmens and Charles Weibel investigated the use of Fluorescein dye to reveal the effects of routine collection of weight and length data from largemouth bass. Routine handling may damage the surface of the fish in a way that cannot easily be observed.
The dye does not penetrate undamaged surfaces, but will penetrate and adhere to damaged areas. When exposed to UV light, it is possible to reveal damage that cannot ordinarily be observed in a living animal. In this experiment, Ayra evaluated three different dye concentrations.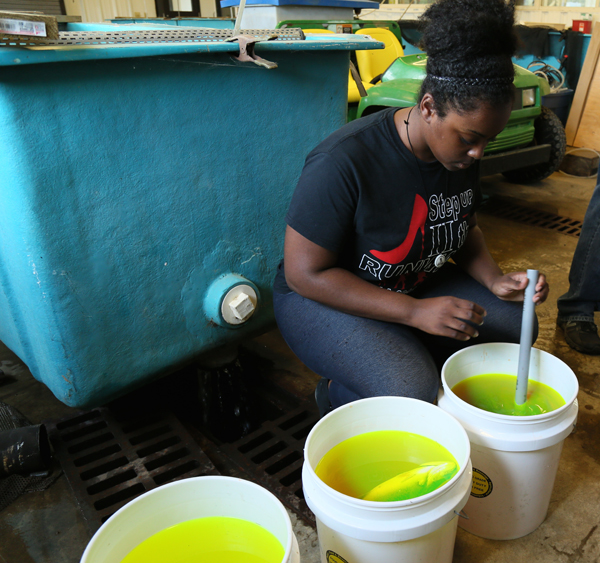 photos by Charles Weibel
______________________________________________
Aquatic Weed Control Demonstration With The Use Of Koi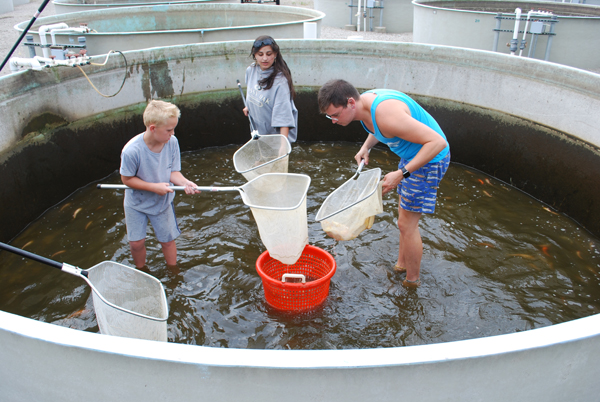 On Thursday, June 23, 2016, Drs. Gomelsky and Durborow loaded a live haul tank with koi for client Rocky Allen to stock in his aquaculture ponds for an aquatic weed control and prevention Extension demonstration. Rocky farms bass, tilapia, minnows and red claw crayfish in Oldham County, KY.
_____________________________________________
KSU Students Help With Mussel Conservation And Research

On Friday, June 10th, Ariel Jones who is with the Summer Apprenticeship Program (SAP) joined the mussel research team to set out silos filled with mussels in Beech Fork close to Bardstown, KY. This site was chosen as a reference stream because it still has a good mussel population and during the last year's research by Dr. Wendel Haag, mussels appeared to grow well at Beech Fork.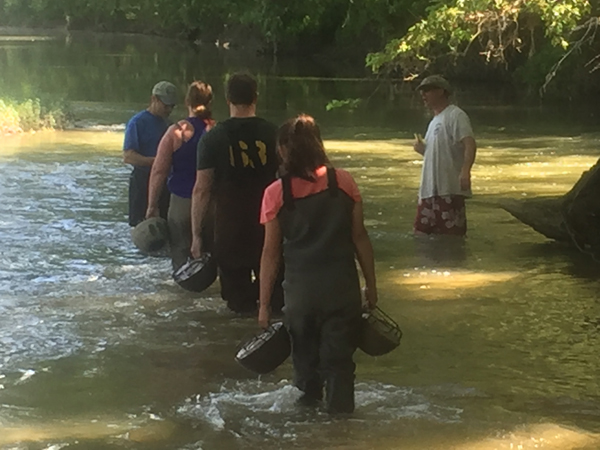 Joining at this site to help set out the silos were; Dr. Wendell Haag from the U.S. Department of Forestry, Scott Watts and Fritz Vorisek from the Center for Mollusk Conservation, Christopher Lyvers a KSU undergraduate, Dr. Bob Durborow from KSU Extension, and Lesley Sneed a graduate student at KSU. Lesley's thesis research involves 28 sites around Kentucky with these silos that contain juvenile mussels grown by the Center for Mollusk Conservation. The mussels were born in December of last year and average 4mm in size. Each silo contains 25 mussels and each site has a minimum of three silos. The silos are left in the streams over the summer and then retrieved at the end of August. During this time, water samples will be collected at each site and analyzed by the Kentucky Division of Water. The Stream Institute of University of Louisville has installed Sonde meters at two sites, which will monitor water quality measurements. In August, each mussel will be measured, weighed and analyzed. These mussels are being used to access the water quality of streams that used to have an abundance of mussels present but in recent years those populations have declined.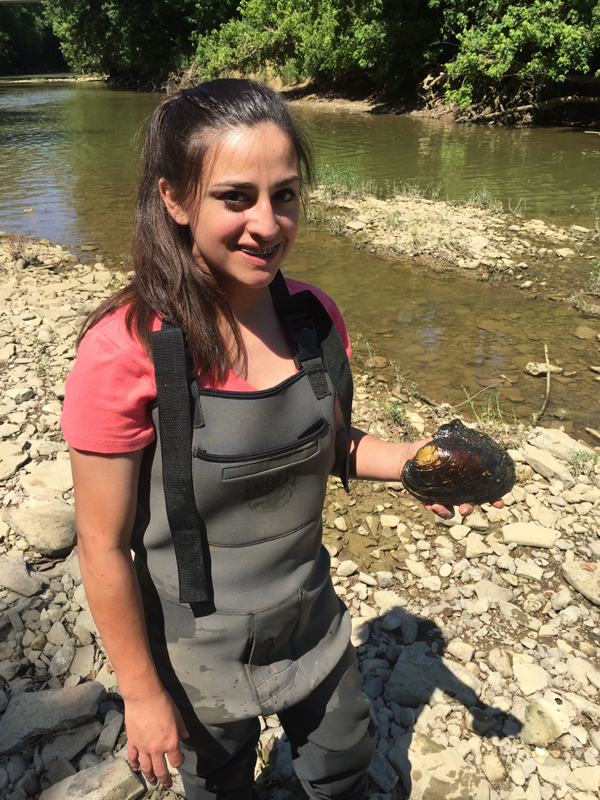 ______________________________________________
High Tunnels Stocked With Tilapia
Dr. Ray and his team stocked the KSU High Tunnel Aquaculture Tanks with tilapia on May 31 and June 1, 2016. These fish were purchased from a hatchery in February when they were 0.5g. They were then raised in nursery tanks in the Aquaculture Production Technology Building, and stocked at the High Tunnels at about 40g each. They stocked 1,155 fish into each of 12 tanks at the tunnels where they will be grown to market size. The team is predicting that they will harvest the fish at about 570g each or 1.25 lbs. in late September. Some of the research questions being addressed include how can low-cost recirculating systems be utilized in high tunnels for fish production, what are the costs and potential profit of such an operation, and how can fish and plant production be intergrated in high tunnels?
Photos by CharlesWeibel
______________________________________________
U.S. Farm-Raised Fish and Shellfish Publications Available for Education and Promotion

The National Aquaculture Association (NAA) has developed a variety of fact-based, high-quality, full-color brochures. These publications communicate to consumers, buyers, chefs and health care professionals the quality, value and wholesomeness of U.S. farm-raised fish and shellfish as well as the federal and state regulations that govern production, handling and processing.
New Brochure - Locally Farmed Seafood: Safe & Sustainable encourages consumers to buy locally farmed fish and shellfish for their safe, wholesome and nutritious benefits, environmental sustainability, and the positive impact on local economies.
U.S. Farm-Raised Seafood and Food Safety describes non-voluntary and voluntary federal and state food inspection and safety programs and the incredible nutritional values of farm-raised fish and shellfish.
U.S. Farm-Raised Fish and Shellfish Q&A answers commonly asked water quality, sustainability, drug and chemical use, diet and food safety questions with science and regulatory facts.
U.S. Farm-Raised Fish and Shellfish for a Healthier & Happier Life provides in-depth nutritional information for children, teens and adults as well as the health benefits of consuming fish and shellfish during pregnancy. The facts concerning Omega-3 fatty acids, mercury and PCBs are also presented.
United States Aquaculture: Fact & Fiction corrects erroneous perceptions concerning fishmeal, food safety, drug and chemical use, Omega-3 fatty acids, mercury, environmental effects, sustainability, PCBs, and eco-labels.
Each of these attractive, educational publications can be previewed at:
http://thenaa.net/publications
______________________________________________
Dr. Boris Gomelsky Publishes Video On Koi Breeding
Dr. Boris Gomelsky and KSU Aquaculture graduate students spawned koi in the hatchery this Spring. Video was recorded, edited and posted onto YouTube. This video demonstrates the process of koi artificial breeding and includes stripping of eggs and sperm from koi broodstock, and artificial fertilization of eggs. In order to remove adhesiveness, after fertilization eggs are placed in McDonald incubation jars where they are vigorously moved in water/milk suspension by air bubbles for 50-60 minutes. Then air flow is substituted with water flow for further incubation of eggs.
Video edited by Charles Weibel
_____________________________________________
Kentucky Aquatic Newsletter Spring/Summer 2016

The new edition of the Kentucky Aquatic Farming newsletter has been released. You may view this edition by clicking the link below.
Kentucky Aquatic Farming Newsletter Spring/Summer 2016
_____________________________________________
Scale-Transparency and Red-Eye Mutations in Koi
Dr. Boris Gomelsky, KSU Aquaculture Professor, describes two mutations in koi and demonstrates mutant fish from experimental progenies.
Video edited by Charles Weibel
_____________________________________________
Growing Marine Shrimp in a Biofloc System
This video was shot during a harvest of the indoor marine shrimp production system at Kentucky State University's Aquaculture Research Center. Dr. Andrew Ray describes some of the benefits and concepts behind biofloc-based aquaculture. The video serves as an introduction to this relatively new and exciting topic which can be used to grow marine shrimp in practically any building, allowing fresh, whole, jumbo shrimp to be grown near and sold to a variety of inland markets.
_____________________________________________
Dr. Jim Tidwell on GCTV with Bill Miller
Dr. Jim Tidwell, Chair of Kentucky State University's Division of Aquaculture and past-president of both the US Aquaculture Society and the World Aquaculture Society, discusses how to deal with dwindling fish supplies and overfishing.
_____________________________________________
Aquaponics - An Integrated Fish and Plant Production System
__________________________________________________________________________________________________________________
Alltech-KSU Research Alliance Focus on Aquaculture Sustainability
To learn more about aquaculture & agriculture sustainability and the research alliance between Alltech and Kentucky State University, click on the link below.
http://stories.alltech.com/sustainable-agriculture.html
__________________________________________________________________________________________________________________