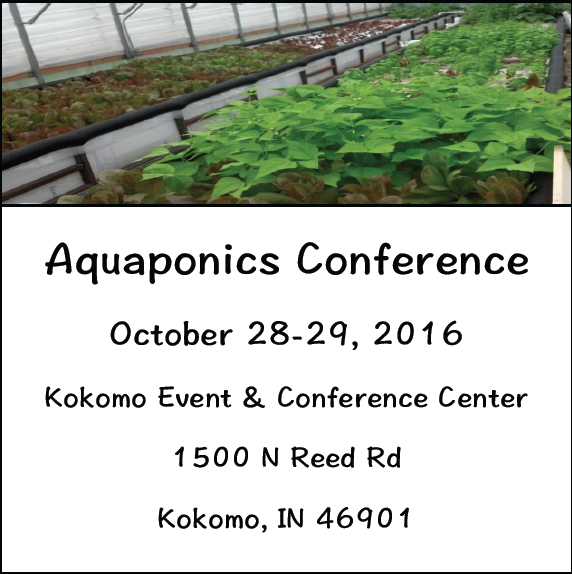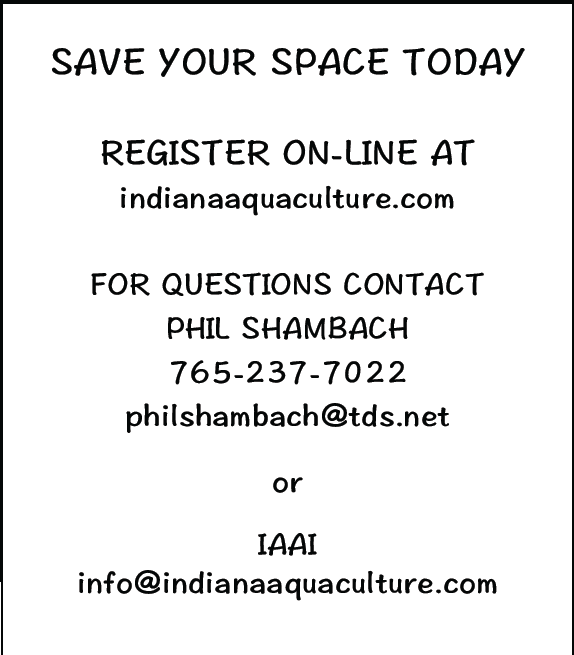 ______________________________________________
Joe Pate Starts Senior Practicum Research Project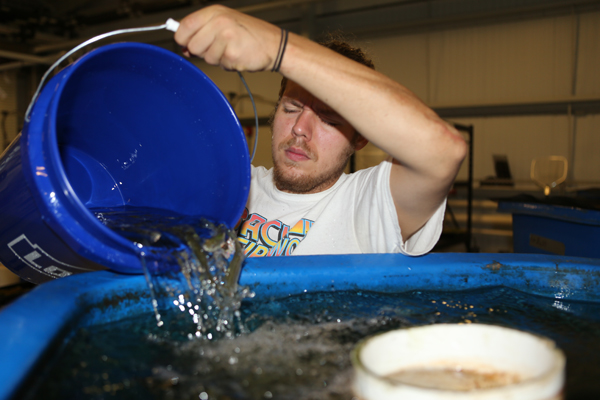 Undergraduate student, Joe Pate, stocked his research project for his senior Practicum course. Joe's research will compare plant growth factors in aquaponics systems stocked with tilapia (Oreochromis niloticus) and largemouth bass (Micropterus salmoides).
Total plant biomass, chlorophyll content, leaf area, and nutrient composition of leaves, roots, and water will be evaluated for differences between treatments. Three plant varieties will be evaluated over the 12 weeks study including Bibb lettuce, swiss chard, and basil. Joe will determine if LMB, which requires a high protein diet, can yield faster plant growth rates compared to tilapia.
Photos by Charles Weibel
______________________________________________
Kentucky State University Aquaculture Professors Present at Aquaculture Europe 2016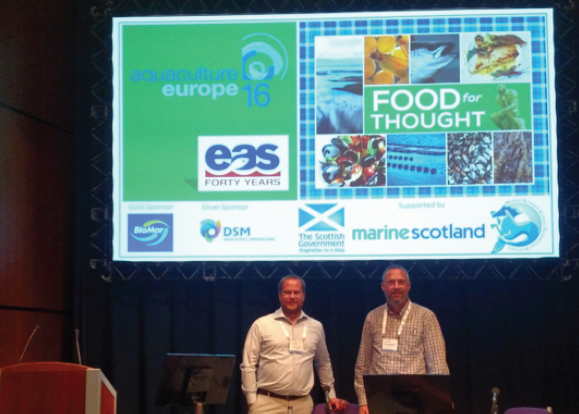 Drs. Robert Durborow and Andrew Ray traveled to Edinburgh, Scotland for the Aquaculture Europe 2016 conference.
Dr. Durborow presented a poster dedicated to the late Dr. Glenn Hoffman, author of the well known book, Parasites of North American Freshwater Fishes. His co-author, AFE undergraduate Christopher Lyvers, digitally scanned Dr. Hoffman's slide collection (used in the book) when he worked for Dr. Durborow. The slide collection was willed to Dr. Durborow by Dr. Hoffman.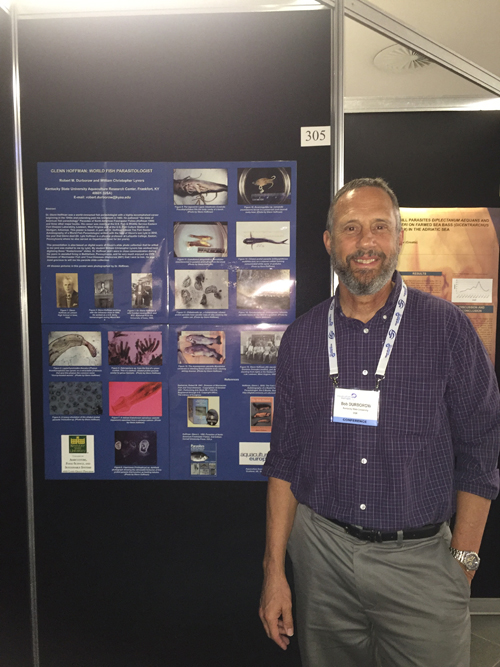 Dr. Ray gave an oral presentation titled "Aquaculture Technologies for Indoor Marine Shrimp Farming."
Aquaculture Europe 2016 - "Food for Thought" is organized by the European Aquaculture society with the cooperation and support of Marine Scotland, part of the Scottish Government, and the Marine Alliance for Science and Technology for Scotland.
The Aquaculture Europe 2016 presented the latest science to support further development and industry panels will discuss key opportunities and identify areas to encourage further sustainable growth in aquaculture.
Source: http://www.easonline.org/meetings/events-diary/71-default/75-conf-trade-show/263-aquaculture-europe-2016
______________________________________________
Fish Disease Laboratory Class Toured the Alltech Algae Facility in Winchester, Kentucky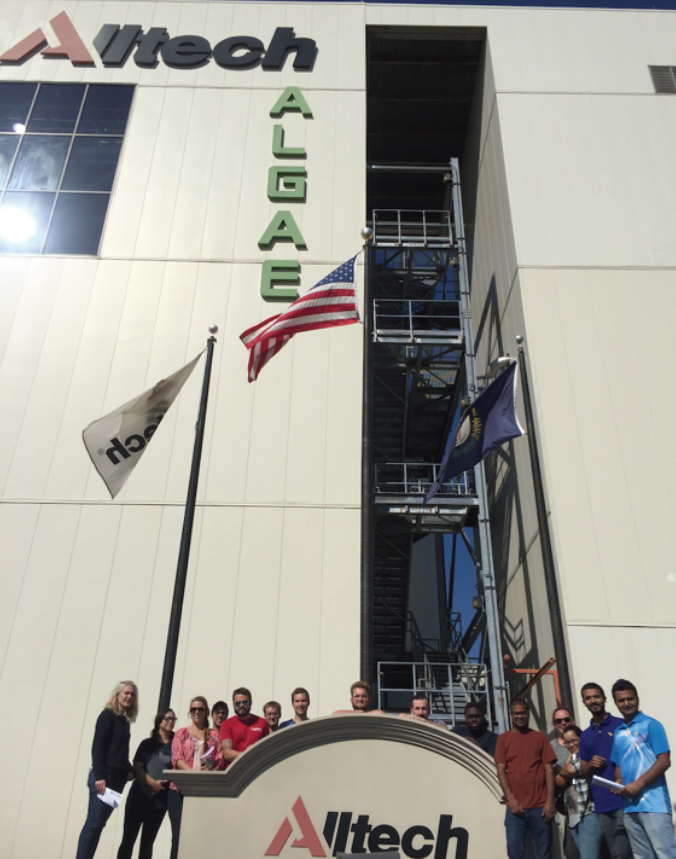 Dr. Durborow's Fish Diseases Laboratory class toured the Alltech Algae facility in Winchester, Kentucky. The students learned about various nutrition uses of the algae grown at the Alltech plant. The plant houses a variety of types and sizes of fermenters used for growing heterotrophic algae utilized in applications for aquaculture, livestock and other animal nutrition.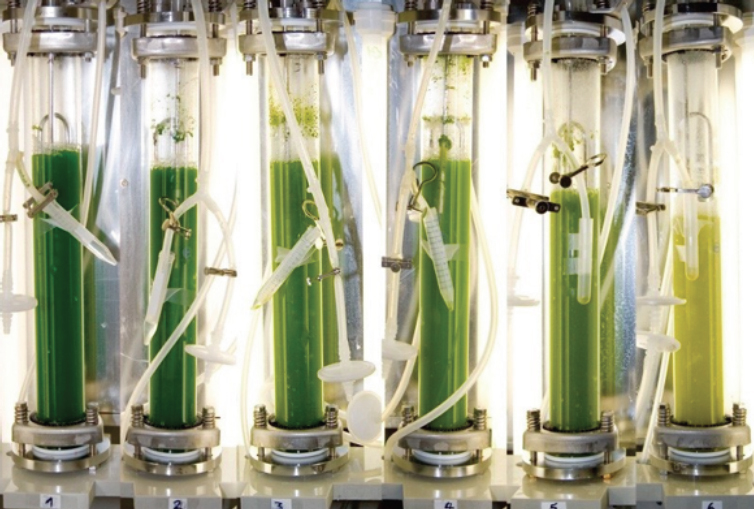 ______________________________________________
Marine Shrimp Stocked in the Aquaculture Production and Technologies Laboratory
The Production Science Lab stocked marine shrimp into the commercial-scale raceway in the Aquaculture Production and Technologies Laboratory. These shrimp had been raised in nursery tanks for approximately 40 days and are now moving into the production stage where they are expected to grow about 1.8 grams per week. They should be harvested just before December holiday break as jumbo shrimp.
Photos by Charles Weibel
______________________________________________
Laurel County High School Students Tour the Aquaculture Research Center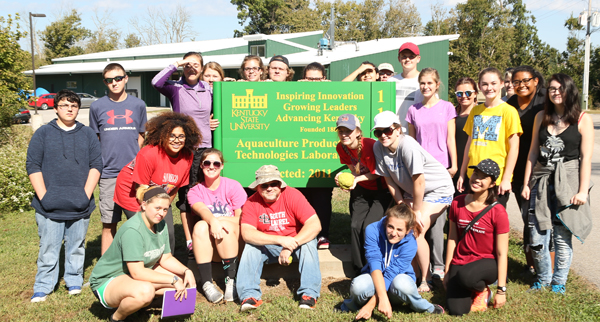 Twenty seven Laurel County high school students and 2 chaperones visited the Aquaculture Research Center with the focus on sustainability, STEM, agriculture, and water chemistry.
This group is associated with the AFE Academy program directed by Dr. Kristopher Grimes and Ms. Jennifer Sanchez. The students spent approximately 1.5 hours at aquaculture and also learned about the many exciting career opportunities and got "up close and personal" with some the unique aquatic species that are currently being researched by our aquaculture scientists.
Photos by Charles Weibel
______________________________________________
Brittany Woodward Completes Thesis Project - Essential Amino Acids Replacement of Largemouth Bass, Micropterus salmoides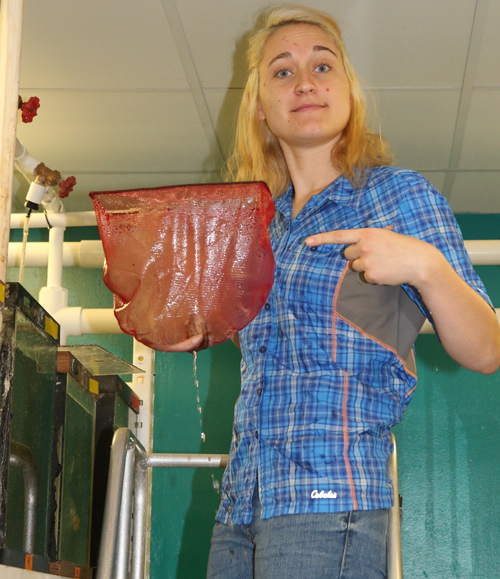 Brittany Woodward has successfully completed the fish feeding trial for her Master's thesis research. Brittany studied essential amino acid requirements for Largemouth bass, primarily focusing on Lysine and Arginine requirements. She compared 6 supplemental levels of each amino acid for a total of 12 treatments. Each treatment had 3 replicates, for a total of 36 tanks. The experiment lasted for 8 weeks, and all the fish were sampled on September 28-29, 2016.
At the end of the study, final body mass of fish of each group were measured. Blood was drawn from fish and their complete diagnostic profile and blood chemistry were analyzed by Vetscan Analyzer and Vetscan iSTAT (ABAXIS, USA) respectively. Fish were carefully dissected to isolate the intestine, muscle, and liver and were stored for determination of activities of digestive, protein metabolism and antioxidant enzymes. In addition, tissue for liver, intestine and muscle were stored for gene expression pattern and histological studies.
Based on observations, there were significant differences in growth and size between treatments. The data from this project will be presented by Brittany Woodward at the Kentucky Academy of Science conference 2016 in Louisville, KY and at Aquaculture America 2017 which will be held in San Antonio, TX. The results of this study will help to develop cost-effective, environmentally friendly feeds for bass.
Photos by Charles Weibel
______________________________________________
Liz Gamez Starts Her Thesis Research Project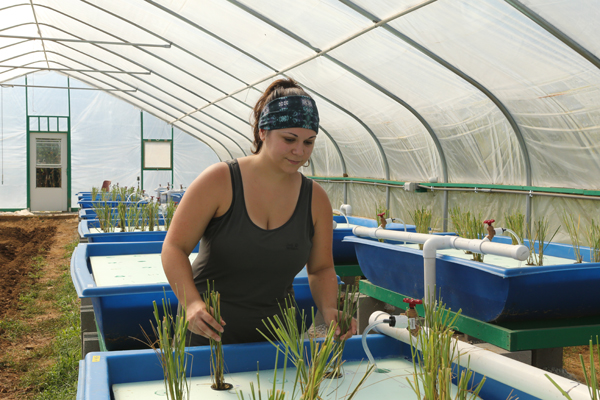 Liz Gamez began her thesis research project titled, "Removal of Nitrate and Heavy Metals From Reused Marine Biofloc Water Through Phytoremediation." This project aims to test simple, inexpensive static aquaponics systems that small aquaculture producers can use to prolong the useful life of artificial saltwater than has been reused repeatedly and has accumulated nuisance compounds. In addition to saving on the cost of saltwater and promoting culture animal health, farmers may also add value from crops grown in phytoremediation systems.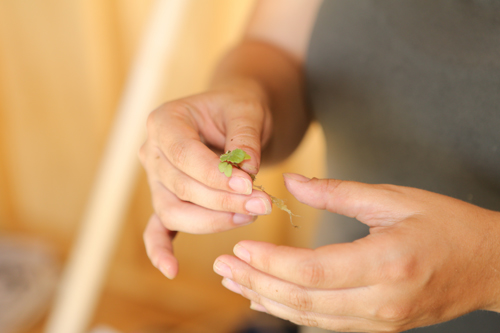 Liz evaluated 12 plant species for suitability in brackish aquaponic culture and selected saltwort and mustard to compare to the marsh grass (Spartina alterniflora) in terms of nitrate and metals removal from water, as well as a blank treatment to determine atmospheric nitrogen loss.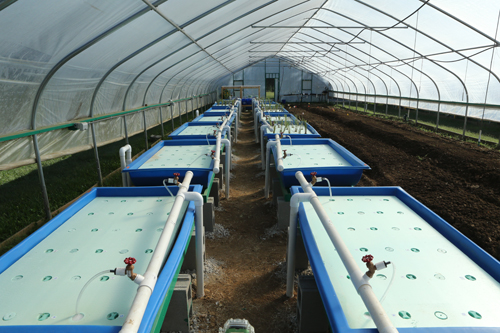 Photos by Charles Weibel
______________________________________________
John Barksdale Harvested Two Tanks From His Thesis Research Project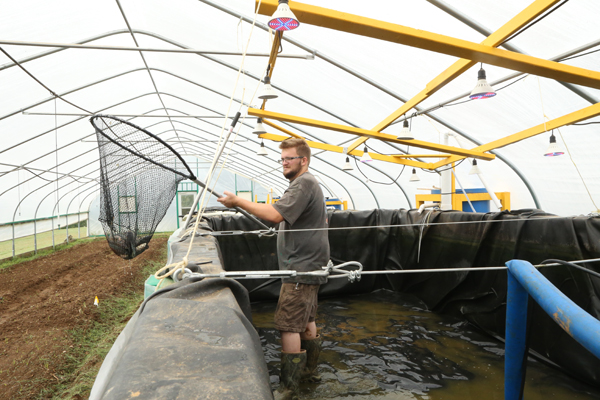 Johns's goal is to assess the effects of supplemental LED lighting in biofloc-based aquaculture systems. Tilapia (Oreochromis niloticus) were stocked with mean weights of 36.7 g into twelve 13 cubic meter tanks at 88 fish/cubic meter. Four tanks were contained in each of three high tunnel greenhouses. Two of the tanks in each high tunnel were randomly assigned to have an extra light treamtment (EL) with LED light arrays, and two received only natural light (NL). The light arrays consisted of 15 individual, 15W LED bulbs hung from a wooden frame twelve inches above the water surface. Each bulb contained 126 LEDs (90 red, 36 blue) that create light in the red and blue spectrums. The LED arrays were operated twenty-four hours a day to maximize the effect they have on the systems. John is looking at the effects that extra light will have on the rates of photosynthesis in biofloc-based systems. Hopefully that increased rate of photosynthesis will lead to healthier and larger fish through better water quality.
Photos by Charles Weibel
_____________________________________________________
AFE Student James Brown Looks for a Practical Method Using Fluorescein Dye to Make Minor Damage Visible on Live Fish Under Ultraviolet Light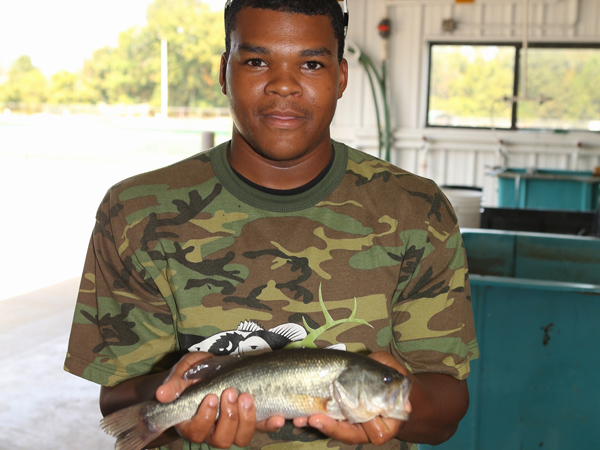 Minor damage of the epidermis associated with harvesting and handling live fish is often not visible to the nake eye. When distributing fish live, minor damage may progress to become visible to the consumer and impact the purchasing decision. James Brown, an undergraduate student enrolled in AFE 411 is working with Dr. Ken Semmens to develop a practical method using fluorescein dye to make minor damage visible on live fish under ultraviolet light. Methods developed in this project may provide a new tool to assess the effect of experimental treatments associated with research on the distribution of live fish for food. It may also become a useful method for fish producers.
Photos by Charles Weibel
_____________________________________________________
Aquaculture Graduate Student Cary Mason Investigates the Influence of Salt on the Water Quality and Physiology of Largemouth Bass Held for the Food Market in a Live Holding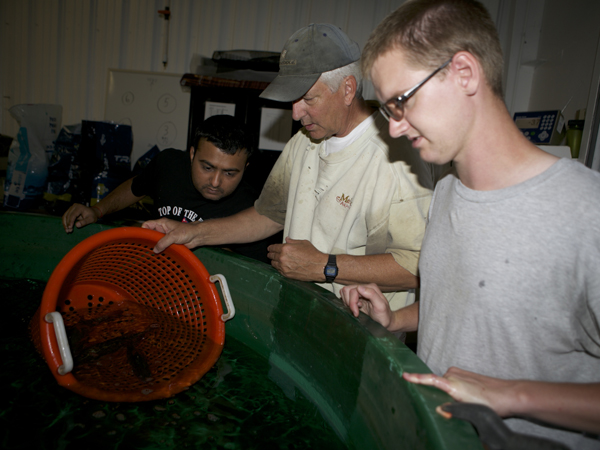 Unlike farmers growing beef cattle or other terrestrial livestock, producers in this region growing fish to eat as food are faced with the task of processing and marketing the food fish they grow. The investment in facilities, the unit cost of processing fish, regulatory issues and logistics are formidable barriers to marketing small quantities of food fish at a profit. These barriers also deter potential fish producers from initiating aquaculture as an enterprise. Distributing animals live removes the need for the individual farmer to invest in and operate processing facilities.
Thomas (Cary) Mason is conducting research under the direction of Dr. Ken Semmens on the influence of salt on the water quality and physiology of largemouth bass held for the food market in a live holding system. In this research they will evaluate salt as a treatment in recirculating holding systems to maintain the physical and chemical condition of live food fish. Following simulated transport conditions, fish will be held in replicate recirculating systems treated with three different salt concentrations for a period of 8 days. Data will be collected to measure water quality, fish mortality, weight loss, and fish condition. Blood will be sampled to obtain measures of stress and physiological condition of the fish.
The research team working with Dr. Ken Semmens include John Kelso (research assistant), Cary Mason, and Sujan Bhattarai.
Photos by Charles Weibel
_____________________________________________________
Tom Tierney Harvested His Thesis Project "A Comparison of Biofloc, Clear-Water, and Hybrid Culture Systems for Intensive Shrimp (Litopenaeus vannamei) Nursery Production"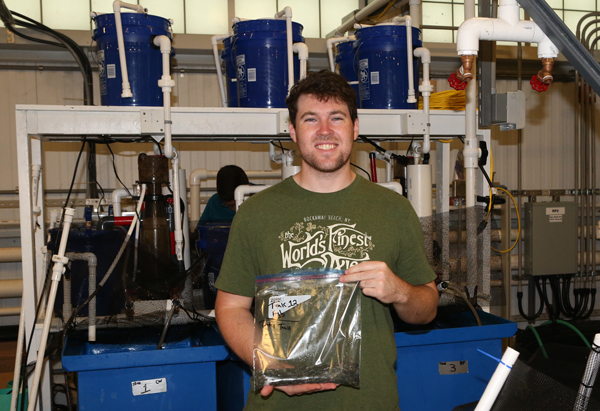 Indoor, intensive recirculating aquaculture systems (RAS) are increasing in popularity for marine shrimp (Litopenaeus vannamei) production as a way of providing fresh, high-quality, never frozen shrimp to metropolitan markets year around.
One common stage in shrimp production is a nursery phase which can enhance biosecurity, allow better quantification of animals, and utilize space more efficiently. Nurseries are usually started a few days after shrimp develop to post-larvae (PL) and continue to a juvenile stage between about 0.5 and 1.0 gram. However it is unclear what type of RAS is most appropriate for indoor shrimp nurseries.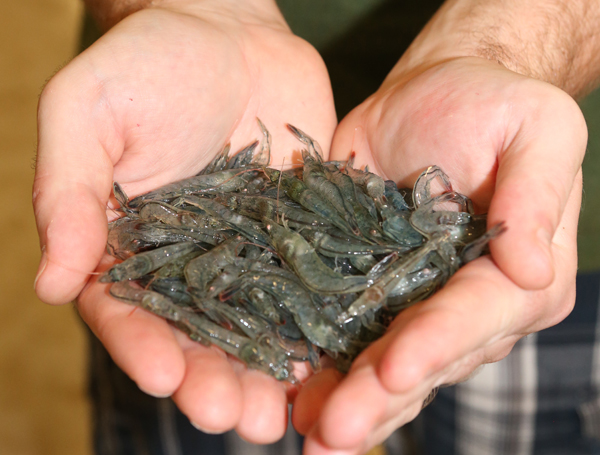 Tom's experiment compared three system types, dictated by differences in filtration: clear-water RAS (CW), biofloc systems (BF), and hybrid systems (HY). Each treatment included four, randomly assigned 208 liter culture tanks; CW systems had an external settling chamber, a foam fractionator, and a biofilter. The BF systems included only a settling chamber and the HY systems included an external settling chamber along with a biofilter. The nursery tanks were stocked with 3,000 PL/m3 with an initial weight of 7mg, and shrimp were grown for 45 days. Water quality parameters, including inorganic nitrogen concentrations (TAN, NO2-N,
NO3-N), were measured once a week. At approximately the middle of the study, samples of shrimp were weighed to determine mean individual weights.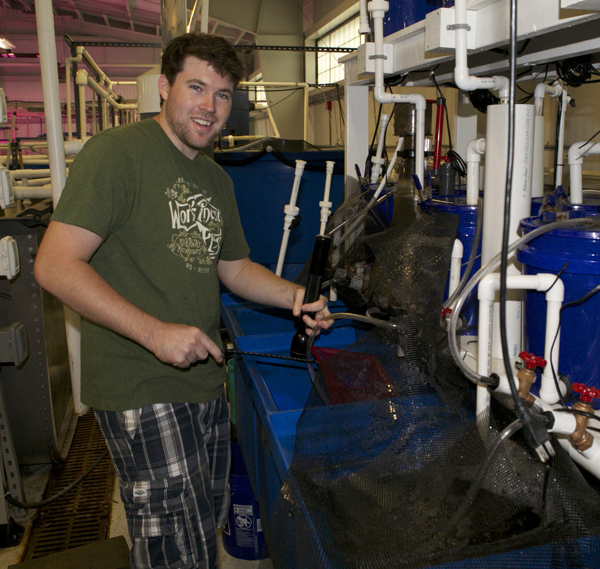 Final data are still pending, but at about the halfway time point there were no significant differences in ammonia and nitrite concentrations between the treatments. However, nitrate concentrations were significantly greater in the HY tanks than in tanks from the other treatments. Mean individual weights of shrimp were significantly greater in the BF treatment followed by HY then CW treatments. These results indicate that differences in system design can have significant impacts on water quality and nursery shrimp production, suggesting that producers should carefully consider what type of system may best suit their production goals.
Photos by Charles Weibel
_____________________________________________________
Lesley Sneed Continues Her Research On Juvenile Mussels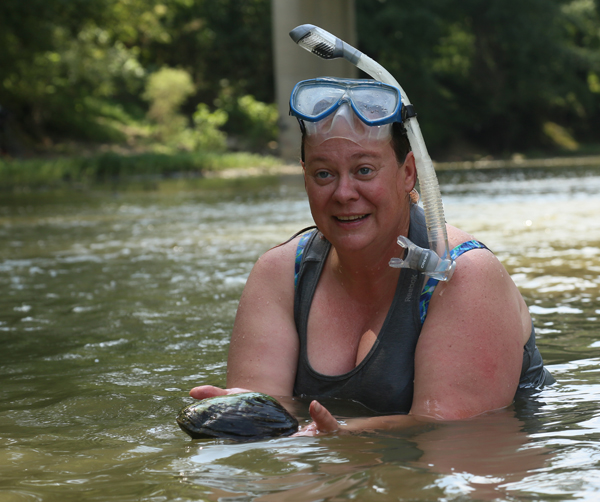 Graduate students Lesley Sneed, Ashmita Poudel, Dakota Raab and Wendel R. Haag (Research Fisheries Biologist with the U.S. Department of Forestry) searched the Beech Fork of the Salt River for concrete silos containing juvenile mussels.
Mussels are increasingly known in the aquatic world as a keystone organism that provides multiple ecological services that are essential for the health of streams and lakes. Mussels, as a group, function as a much-needed natural water filter.
Concrete silos that contain 25 juvenile mussels were placed at the site. The silos are being retrieved now and mussel tissue will be analyzed to help understand why we are losing mussels in these streams. The Kentucky Division of Water will analyze the water quality samples that have been collected.
Lesley Sneed's thesis project is titled "Performance of Juvenile Mussels Held in Place in Streams with Correlations to Water and Sediment Quality in Areas of Recruitment Falure". This study uses Lampsilis cardium, the Plain Pocketbook raised by Kentucky Department of Fish and Wildlife Resources Center for Mollusk Conservation to understand why we are losing our freshwater mussel populations.
Photos by Charles Weibel
_____________________________________________________
Fred Gonzales Harvests His Aquaponic Research Project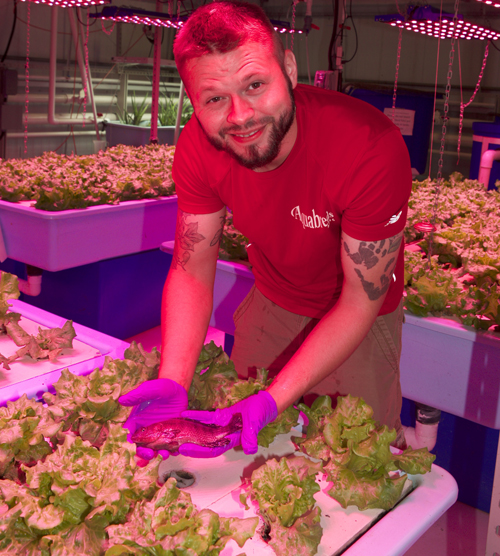 Fred Gonzales harvested his eight week study examining the effects of probiotics (Bacillus subtilis, Lactobacillus acidophilus, and Pediococcus spp.) on food safety indicators within aquaponic systems growing heat tolerant Bibb Lettuce (Lactuca sativa). Research was carried out at the Kentucky State University Aquaculture Research Center's Production Technologies Laboratory.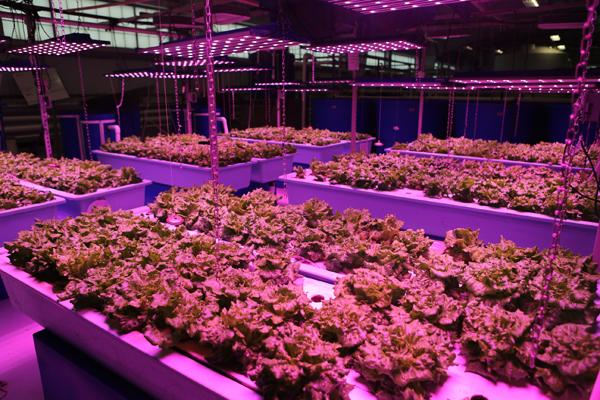 Six replicate aquaponic systems, three of which received the probiotic mix while three did not, were harvested and analyzed to determine if there were any differences in growth between the two treatments. Gonzales spent the bulk of the eight weeks in the Disease Diagnostics lab using microbiology techniques to isolate micro-organisms found in water samples of the systems, plant roots and plant shoots. Training on the Vitek 2, a bacterial identification system, was pivotal in this research, as was the assistance Gonzales received from Research Associate Janelle Hager and KSU undergrads Zach Perry and Joe Pate.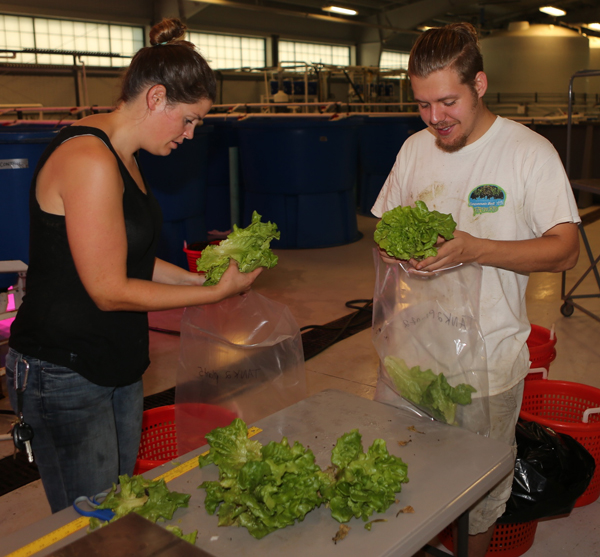 Photos by Charles Weibel
_____________________________________________________
Aquabreds Take Part in Frankfort's 3rd Annual Pay It Forward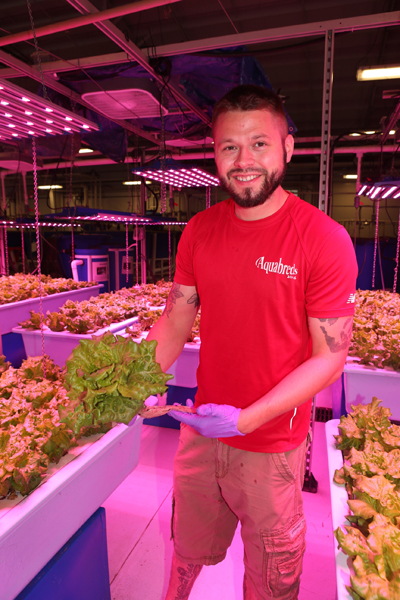 Members of the Aquabreds, an aquaculture club, prepared lettuce harvested from the indoor aquaponic systems to donate to the Access Soup Kitchen and Men's Shelter located in Frankfort, KY.
The students donated over 100 heads of lettuce to the soup kitchen as part of the 3rd annual Pay It Forward Frankfort.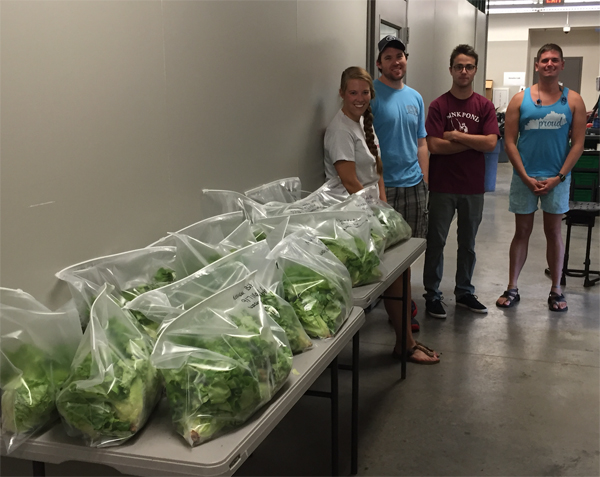 Photos by Charles Weibel
_____________________________________________________
Foodchain Aquaponics
This video discusses aquaponics at Foodchain, a local business located in Lexington, KY.
______________________________________________
Dr. Andrew Ray's Research Published in the Global Aquaculture Advocate
"Comparing Chemoautotrophic- and Heterotrophic- Based Systems Receiving Different Carbohydrate Sources"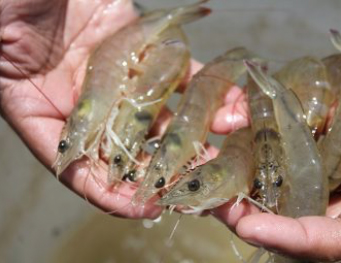 Click on the link below to read the full article:
http://advocate.gaalliance.org/testing-shrimp-growth-in-different-bioflocsystems/#sthash.i3E7KYGr.dpuf
______________________________________________
Constructing Fish Tanks in High Tunnel Greenhouses
This video was shot at the Kentucky State University High Tunnel Complex. High tunnels are relatively simple greenhouse structures commonly used to extend the growing season of crops. In this video Dr. Andrew Ray describes some large fish tanks that have been constructed with wooden frames and rubber liners. The fish tanks are being used to grow tilapia, with the goal of getting market-sized fish in one growing season in Kentucky. Time-lapse and underwater video footage help to illustrate Dr. Ray's points.
______________________________________________

Dr. Sid Dasgupta, Richard Bryant, and Alejandro Velasquez recently published an article in World Aquaculture Magazine titled, "Local Food Markets For Catfish In Kentucky."
Click here for the complete article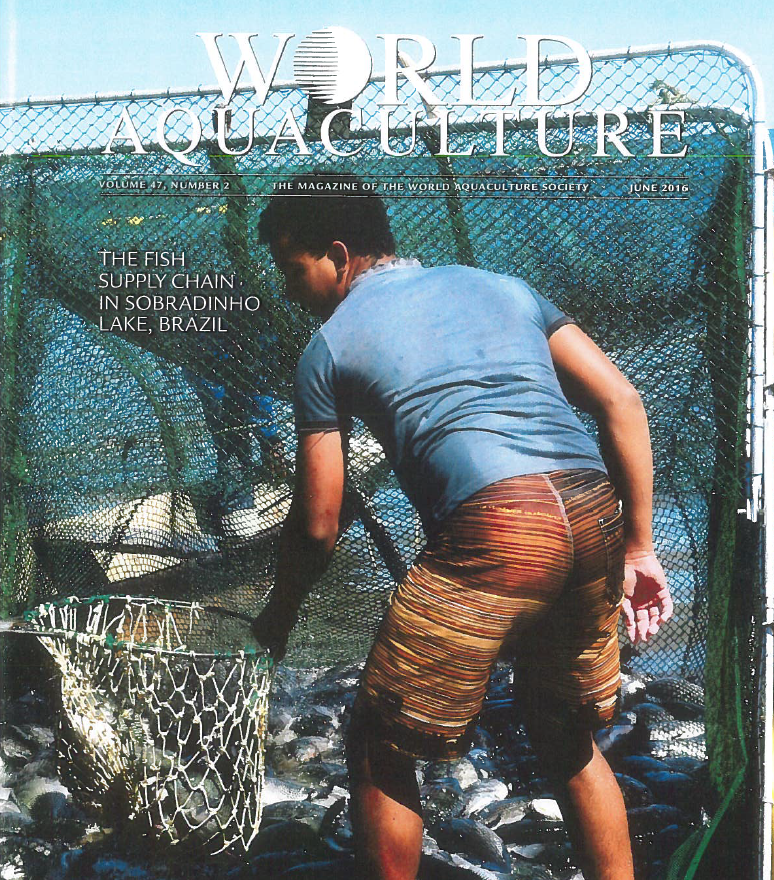 ______________________________________________
Team Gomelsky Publishes Two Aquaculture Articles
Dr. Gomelsky and his team recently published two articles in new issues of North American Journal of Aquaculture. The first article describes ploidy variability and viability of fish obtained from triploid koi females. It is typically considered that triploid fish are sterile. However, triploid
koi females, which were obtained at the Aquaculture Research Center at Kentucky State University, developed large ovaries and appeared to be fertile. The data presented in the article shows that fish obtained by crossing triploid koi females with normal diploid koi males are aneuploids and
have intermediate ploidy between diploid (2n) to triploid (3n) level. This indicates that triploid females produce aneuploid eggs with unbalanced chromosome numbers.
The second article describes inheritance of red eyes in koi. Red eyes is a trait typical for albino fish or other animals. However, data presented in this article shows that trait "red eyes" in koi is under control by not albino but by another demelanization mutation. In experimental progenies red-eyed fish with black (melanin) pigmentation on body were identified. Also, crossing of red-eyed koi with wild-type colored common carp resulted in appearance of fish with black eyes and light body color. These studies were supported by USDA Evans Allen and State's Program of Distinction funds.
______________________________________________
Dr. Boris Gomelsky Publishes Video On Koi Breeding
Dr. Boris Gomelsky and KSU Aquaculture graduate students spawned koi in the hatchery this Spring. Video was recorded, edited and posted onto YouTube. This video demonstrates the process of koi artificial breeding and includes stripping of eggs and sperm from koi broodstock, and artificial fertilization of eggs. In order to remove adhesiveness, after fertilization eggs are placed in McDonald incubation jars where they are vigorously moved in water/milk suspension by air bubbles for 50-60 minutes. Then air flow is substituted with water flow for further incubation of eggs.
Video edited by Charles Weibel
_____________________________________________
Scale-Transparency and Red-Eye Mutations in Koi
Dr. Boris Gomelsky, KSU Aquaculture Professor, describes two mutations in koi and demonstrates mutant fish from experimental progenies.
Video edited by Charles Weibel
_____________________________________________
Growing Marine Shrimp in a Biofloc System
This video was shot during a harvest of the indoor marine shrimp production system at Kentucky State University's Aquaculture Research Center. Dr. Andrew Ray describes some of the benefits and concepts behind biofloc-based aquaculture. The video serves as an introduction to this relatively new and exciting topic which can be used to grow marine shrimp in practically any building, allowing fresh, whole, jumbo shrimp to be grown near and sold to a variety of inland markets.
_____________________________________________
Dr. Jim Tidwell on GCTV with Bill Miller
Dr. Jim Tidwell, Chair of Kentucky State University's Division of Aquaculture and past-president of both the US Aquaculture Society and the World Aquaculture Society, discusses how to deal with dwindling fish supplies and overfishing.
_____________________________________________
Aquaponics - An Integrated Fish and Plant Production System
__________________________________________________________________________________________________________________
Alltech-KSU Research Alliance Focus on Aquaculture Sustainability
To learn more about aquaculture & agriculture sustainability and the research alliance between Alltech and Kentucky State University, click on the link below.
http://stories.alltech.com/sustainable-agriculture.html
__________________________________________________________________________________________________________________