KSU's PROGRAM of DISTINCTION
Kentucky State University's Aquaculture Research Center Makes Pelleted Fish Diets from Brewers Grains
KSU's Aquaculture Research Center is working with Food Chain of Lexington, Kentucky formulating a pelleted fish diet using brewers grains. These grains are a by-product of brewing beer. Faculty, staff and students at KSU have been helping Food Chain with diet formulation, finding the equipment needed to make the diets and hands on training on how to use the equipment. Mims Russell is the Farm Manager for Food Chain and brought several five gallon buckets of the brewers grains to KSU. Ingredients were added to the grains and mixed well. The next step is to run the diet through an extruder. Diets are dried and broken into bite size pellets. KSU has also been conducting research on these brewers grains as diets while reducing the most expensive ingredient fish meal.
Photos by Charles Weibel
_________________________________________________________________________________________
Grant Curran finishes His Thesis Research Study
Grant Curran finishes his thesis research project at the Aquaculture Research Center. His research was a stocking density study with Australian Red Claw Crayfish. The crayfish were stocked at 200, 400, and 600 animals per square meter. This equated to 60, 120, and 180 crayfish per tank. The crayfish were fed at 6% biomass daily for the first 39 days then dropped down to 3% biomass for hte remainder of the study. After eight weeks the crayfish were harvested, weighed and measured. The trend from the data indicate that there is an inverse relationship between stocking density and both the survival percentage and average biomass. Other variables such as average length and feed conversion ratio are still being analyzed. Survival percentage for each treatment, 69, 68, and 64% respectively, is higher than most Australian Red Claw density studies which vary between 50-60%.
Photo by Charles Weibel
________________________________________

FoodChain 2.0
FoodChain (Lexington, KY) reopens its doors after a two month hiatus for building renovations. With a brand new look and the aquaponics system flowing, their indoor food production facility plans to harvest its first batch of tilapia, lettuce, and microgreens in just a few weeks. Showcasing their upgrades is their newly constructed hatchery and nursery made with recycled industrial bulk containers. Additionally, prominently displayed is the Hobart mixer, which will now give the farm operators the ability to make their own fish feed on site using discarded grains from the West 6th brewery. KSU Graduate student Thomas Delomas is also a volunteer at FoodChain and gave the first tour after the reboot to a few patrons.
Photo by Zak Kupchinsky
Two New Graduate Students at the ARC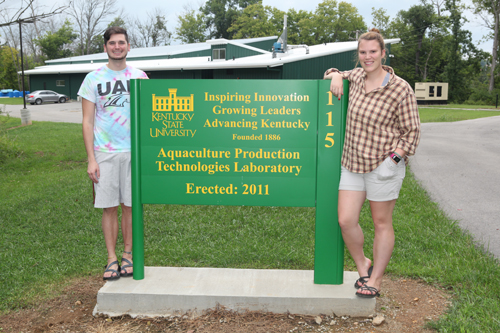 Kentucky State University Aquaculture Research Center has two new graduate students. Kristy Allen and Jeffrey Warner, both from Gadsden, Alabama. Kristy attended the Gadsden State Community College and received an Aquaculture Technician Certificate. She also has a B.S. in Biology from the University of Montevallo. Jeffrey also has an Aquaculture Technician Certificate from Gadsden State Community College and a B.S. in Biology from the University of Alabama at Huntsville. Kristy has an interest in nutrition and Jeffrey is interested in genetics.
Photos by Charles Weibel
EVENTS

Kentucky Academy of Science Centennial Meeting

Lexington, KY

November 14-16, 2014

------------------------------------------------

Aquaculture America 2015

New Orleans, LA

February 19-22, 2015